The Harris County Department of Education joined other organizations across Texas in celebrating AmeriCorps' birthday. It welcomed new members during ceremonies at its headquarters in East Houston.
It also celebrated the 10th Anniversary of the One Star Foundation. That's the state service commission for the national program.
Ne'Cauje Turner is the CASE, or Cooperative for After-School Enrichment, and AmeriCorps project coordinator with the Department of Education. She says their mission is to provide after-school programs for at-risk youth in the Houston area.
"That's what AmeriCorps does and that's what we try to focus on," said Turner. "To encourage our after-school youth to participate in the service of others. Because when you participate in the service of others, you become more engaged in the classroom, and you become adults who become more engaged."
The Department of Education recruits volunteers for CASE, which stands for the Cooperative for After-School Enrichment. Sofia Medrano says after graduating from college, she found fulfillment with AmeriCorps.
"There's experiences that I was able to have through AmeriCorps, that I probably wouldn't have had if I just worked in another corporate company doing this, or if I just worked in a school," said Medrano. "I've had the opportunity to travel all around the city in different districts, and see just different communities and their reaction towards our programs, and being able to touch the lives of lots of different children is just so impactful on my life and I hope that I can continue this work after AmeriCorps."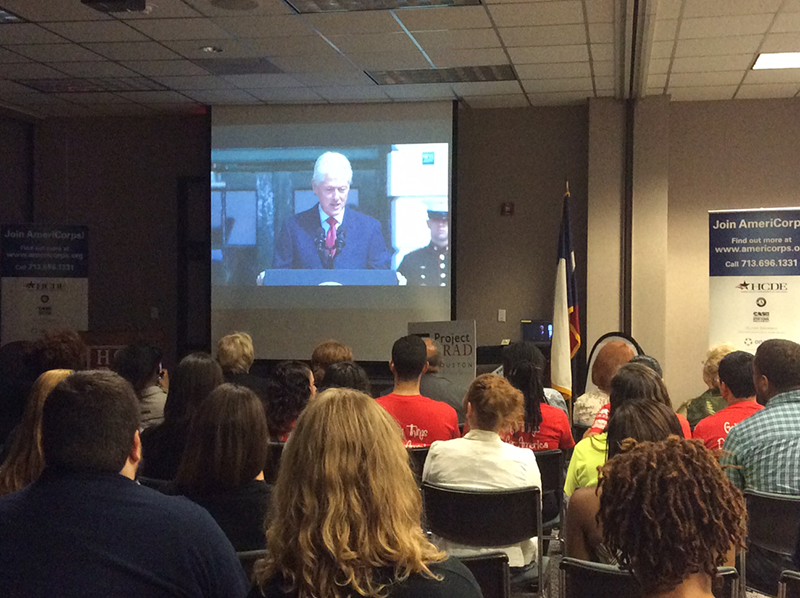 New volunteers to AmeriCorps are welcomed into the program that celebrated its 20th birthday. Photo by taken by Carol Vaughn, with the Harris County Department of Education.
Medrano says the experience helped her in her career path.
"I really enjoyed working with kids. And so through CASE and through United Way, I had that opportunity to do that. I also like working with literacy — that's kind of my background that I graduated with in college. So I was able to do all of that with both programs so it really worked out."
On hand to help welcome the dozens of new AmeriCorps volunteers were alums like Tayler Torry. She's now on staff with Education Pioneers.
"It definitely opened my eyes to a lot of things that other people are facing in this country, and gave me an opportunity to meet people who are like-minded as myself and wanted to do something about it," said Torry. "And so I think not only did it give me direction, but it showed me that I could go on this path to helping others, and that I've dedicated my career to nonprofits."
Former President Bill Clinton signed the bill that created AmeriCorps. He said it was one of the most important things he had done to foster public service.