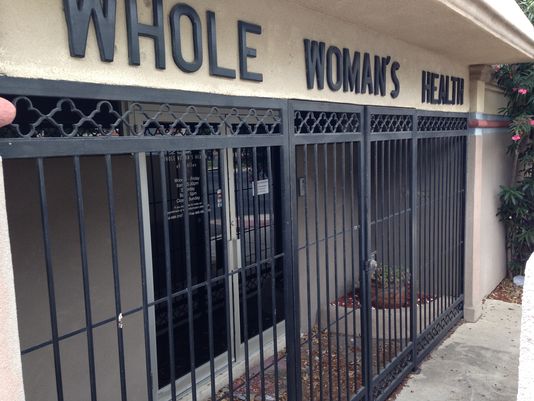 Whole Woman's Health was one of the clinics which sued the state of Texas.
Eleven abortion clinics in Texas can stay open for now after an appeals court declined to allow Attorney General Greg Abbott to shut them down right away.
The litigation centers on the requirement that all abortions take place in ambulatory surgery centers. Eleven clinics couldn't afford the transition and were about to shut down before a federal judge intervened last Friday. If the clinics had shut down, the number of places to get an abortion in Texas would have dropped from 19 to 8.
A group of abortion clinics, Whole Woman's Health, had sued over the law.
The group's president and CEO, Amy Hagstrom Miller, says she won't have to close one clinic in Fort Worth and another one in San Antonio. Neither met the standards for an ambulatory surgery center (ASC) and Miller had testified that she couldn't afford to build a $3 million ASC, and she had failed in numerous attempts to lease space in an existing center. Whole Woman's Health has another clinic in San Antonio that does meet the ambulatory surgery center requirements, which involve extensive equipment and building codes, such as hallway widths, that don't apply to doctor's offices.
"Today we're here to say clearly and proudly that politician's efforts to close our doors have not swayed us, have not discouraged us and have not subdued us," Miller said.
In addition, Whole Woman's Health is working to hire staff and re-open a shuttered abortion clinic in McAllen. The group had to shut it down in March because the clinic's physician could not obtain hospital admitting privileges as required under another provision of the 2013 law, known as House Bill 2.
But in his decision about the surgery center rule, Judge Lee Yeakel of Austin also wrote that the admitting privileges requirement didn't apply to the McAllen clinic and an El Paso clinic, because there were no other places in the Rio Grande Valley to get an abortion besides those two places.
Yeakel's decision, released late Friday, said the surgery center rule created an "undue burden" to women needing an abortion, especially women in the Rio Grande Valley and west Texas.
Attorney General Abbott responded by filing a request for an emergency stay of Yeakel's decision with the Fifth Circuit Court of Appeals in New Orleans. If granted, that would have let him shut down the clinics while he appealed Yeakel's decision. But he was denied. Now both sides will have to appear in New Orleans on September 12 for oral arguments.
"It's kind of interesting that the Fifth Circuit did not grant the emergency stay because they are generally considered one of the most conservative appellate courts in the country," said Patricia Gray, a law professor with the University of Houston's Health Law & Policy Institute.
Gray added that although Abbott lost his emergency motion doesn't mean he won't get what he wants September 12. On the other hand, the Fifth Circuit could rule that driving hundreds of miles to get an abortion does represent an "undue burden" on a woman's constitutional right. Gray said the judges will hone in on that phrase.
"What constitutes 'undue burden,' unfortunately, is sometimes in the eye of the beholder. So the distance issue could be a real one," she said.
Melissa Conway, a spokeswoman with Texas Right to Life, said it's disturbing that eleven clinics can keep operating for now. But she said activists and "prayer warriors" will be ready when the clinic re-opens in McAllen this weekend. They'll warn women that just because the clinic was given legal permission to re-open doesn't mean it's safe.
"(We'll say) as a point of warning to women that you're in a window of access, but is that access worth the potential risk?"
Whole Woman's Health also announced that they're opening a new abortion clinic in Las Cruces, New Mexico. That's about a 45-minute drive from El Paso.