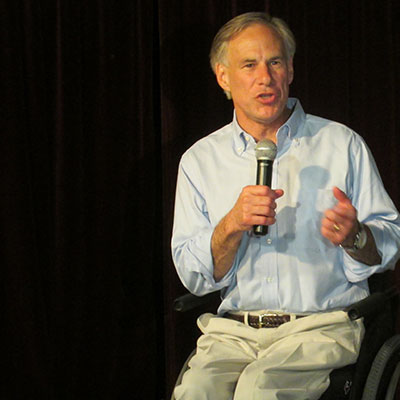 Texas Attorney General Greg Abbott filed an emergency request with a federal appeals court.
After a federal judge stopped part of a Texas law from taking effect late Friday, Attorney General Greg Abbott appealed for emergency permission to enforce it.
The Texas abortion law that passed in the summer of 2013 required all abortion clinics to become ambulatory surgical centers — and they had to be ready by this Labor Day.
But federal Judge Lee Yeakel in Austin stopped the rule, because about dozen clinics couldn't afford to make the transition and would have to shut down. Only eight places would be left to get an abortion, all in major cities.
"We're very pleased with Judge Yeakel's ruling on Friday night," said Esha Bhandari, a staff attorney in New York with the Center for Reproductive Rights. The Center helped sue Texas on behalf of abortion providers.
"In particular, he made factual findings about women in the Rio Grande Valley and in west Texas regarding their levels of poverty and the travel barriers that are unique to them and their position," she added.
Abbott filed an appeal almost immediately on Friday, and on Sunday followed up by asking the Fifth Circuit for an emergency motion to stay Yeakel's ruling. That would allow the state to enforce the surgery center rule even as the appeal unfolds.
Abbott's office declined to comment.
But in the motion Abbott wrote that the purpose of the law was to improve patient safety, and that existing clinics had more than a year to get ready.
Bhandari countered that the clinics should be left alone while the lawyers battle it out.
"We think that there's going to be irreparable harm to women in Texas if the judgment is stayed," Bhandari said. "There is no harm by allowing the status quo to continue, and for the clinics that have been providing safe abortions up until now to continue doing so while the appeal goes through with its process."
A Houston ob-gyn is keeping an eye on the lawsuit. He provides abortions in his office as a small but important part of his general practice.
"We have a group of bandits, and I'm going to call them bandits, who think their own rights outweigh everybody else's rights. It's not right. It's not American, and it just makes you sick."
The doctor will have to stop doing the abortions immediately if a three-judge appeals panel agrees with Abbott. The attorney general has asked for a decision by Friday.
If all this sounds familiar, it's because last fall Abbott asked for emergency permission to enforce a different part of the law, requiring doctors who do abortions to get hospital privileges.
In that instance, he won, and the rule went into effect. But lawyers for the abortion clinics explained the three judges won't necessarily be the same ones as last fall, and they pointed out the facts on the ground have changed because half of the abortion clinics in Texas have already closed.