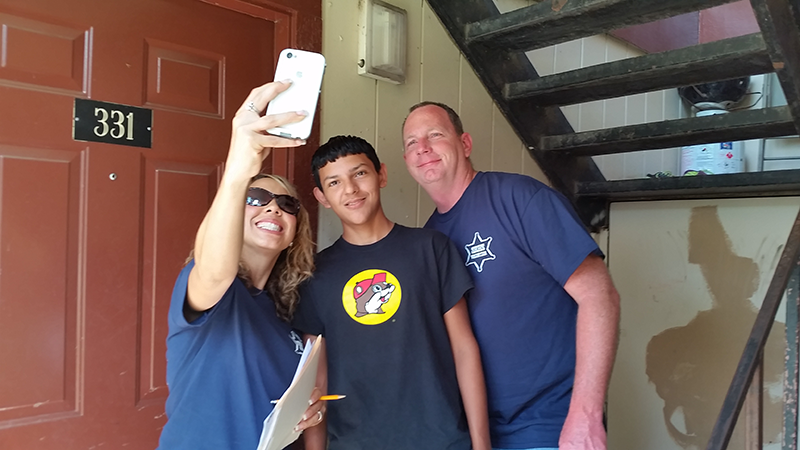 Robert Stock and Vanessa Reyes, both school principals in Pasadena school district, take a selfie photo with a new ninth grader, Luis Olvera. Recently volunteers knocked on the doors of hundreds of students to welcome them to Sam Rayburn High and find out how the school can help parents be more involved in their children's education.
It's a hot Saturday morning at a large apartment complex in Pasadena.
Robert Stock, the principal of Sam Rayburn High School, is dressed in jeans and a T-shirt. He's on a mission to meet some of his newest students. So he's knocking on doors.
With him is Vanessa Reyes, another school administrator.
They want new high school students off to a great start. They're part of a team of volunteers visiting the homes of more than 700 new ninth graders.
Their goal: welcome the entire freshmen class to high school and meet their parents.
Students like Edwin Sanchez.
Stock talks with him in the doorway outside his apartment.
"Hey, Edwin! We're just going around welcoming everybody. We're excited to have you and we want to make sure you feel a part and if there's anything you need…"
Edwin's dad Bartolo Sanchez comes to the door.
"Hola señor! Yo soy Vanessa Reyes — Mucho gusto!"
They step inside and chat in Spanish around the kitchen table.
Reyes explains the school wants to help Edwin go to college. She asks his dad in Spanish what the school can do to help him better support his son's education.
"Usted que necesita…?"
Sanchez says he'd like more information about how Edwin's doing.
His dream is for Edwin to go to college so he doesn't have to work like he does. Sanchez is a carpenter. His son's interested in engineering.
As they continue visiting homes, Reyes says she wanted to try a more personal approach for back to school.
"The most important piece isn't the walk itself but the relationships you build by doing it."
On this trip, already some parents feel more connected to the school like Maria Morúa.
"So for this to happen it touches a lot of parents. It teaches them like, 'What! The school is over here. Because that's how I am right now. He's like that too!'"
Morúa wants her son Steven to graduate and not drop out like his older brother.
During these visits, the school leaders learn what specific issues families are facing: language barriers, work schedules, medical issues.
"When you see the challenges that parents face, I saw some themes as far as parents wanting better for their children, in regards to a better job, a better life," Reyes said.
As they head back to campus, they're thinking of how to grow these new relationships.