It may sound like new-age jargon, but crowdfunding lets business owners, investors and average citizens pool their resources to fund projects. The tool could soon be playing a bigger role in Houston's economy.
The State Securities Board is set to vote on how to regulate crowdfunding in Texas. Typically, funding for new businesses can only come from accredited investors. The legislation could open those opportunities to the average person.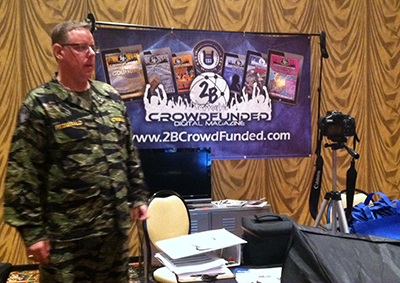 Michael JP Fitzgerald, founder of 2BCrowdFunded magazine, presents his work at the Kickercon Crowdfunding Expo.
Terell Jones is the co-founder of the Kickercon Crowdfunding Expo. Local entrepreneurs came out to the event to learn about using the innovative method to raise investment money.
"It eliminates that need to be an accredited investor," Jones said. "That means Joe the plumber can actually be an investor and own part of a business."
Another major use is nonprofit work. Rich Matsuura is the CEO of Crowdera, based in California. His company uses crowdfunding to support education projects. Matsuura says he attended the conference to show that it can be used to fund almost any cause.
"We're absolutely looking at helping folks fund what matters to them, and this could be anything around their causes and what they think is important," he said.
Jones says Houston was an ideal place to host the first Kickercon conference.
"You've got a lot of good industries," he said. "You've got finance, you have real estate, you have oil and gas, and so with that kind of mix and with where crowdfunding is going, we think Houston is a viable place."
The conference will run through Saturday.