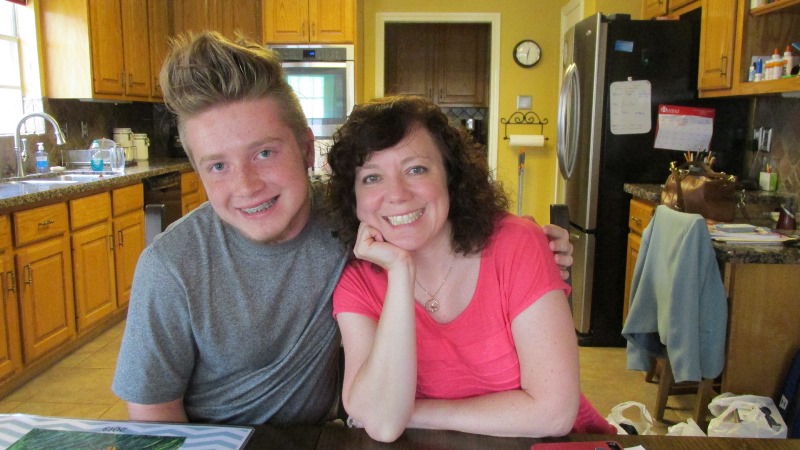 Mom Vanessa Morales-Knight stays very involved in the education of her son Ben, 14. But she only recently found about how high school is changing.
To find out how families are navigating major changes to high school, we're going to visit two homes.
The first one is in the Katy suburbs, west of Houston. School spirit signs stand in the yard of this red-brick, two-story house.
"Hello!"
Inside at the kitchen table, Vanessa Morales-Knight admits she's a little overprotective with her two boys. She's a helicopter mom.
But she still had no idea that her oldest Ben has to pick a career path his freshman year, thanks to a new law, House Bill 5.
"I'm embarrassed to say I had no information about it. I try to be informed about my kids' education. But I'm an attorney, not a teacher."
That is, until she went to a meeting at her son's new high school.
Ben went too. He doesn't remember much.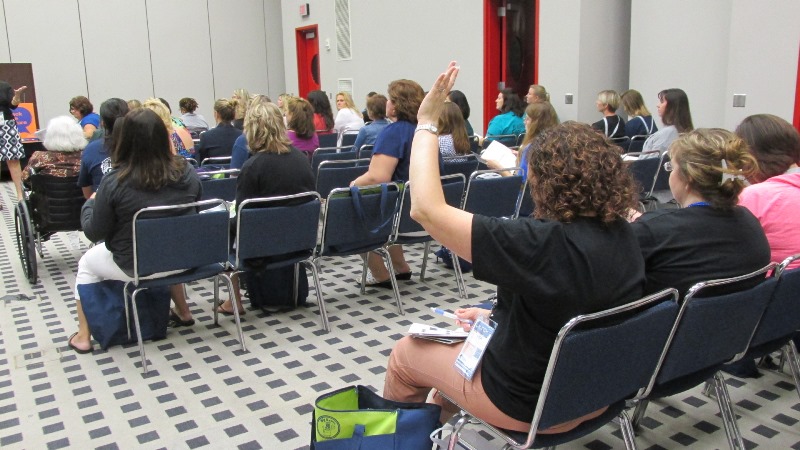 Dozens of parents from across the state attended a workshop at the Texas PTA conference in Houston to learn about all the different ways House Bill Five is changing education. Many of them had questions for the presenter, Ellen Arnold.
"Yeah, I think mostly what he heard from the administrators was, 'blah blah blah blah.'"
So Morales-Knight felt it was her job to understand.
"Figuring out for me was a flowchart, mostly mental flowchart. If A, then B. If you have your kid as going to college, then you want to do this path. And then this path has to branch off into these paths."
For Ben, it wasn't that complicated.
He picked the only option he liked: arts and humanities so he can act in theater.
"I personally find it more convenient to be able to focus on what I want."
His mom knows he'll be OK because she's looking out for him. But what happens when a parent isn't that involved?
That takes us to our second home. It's on the other side of Houston, in Pasadena next to refineries and chemical plants.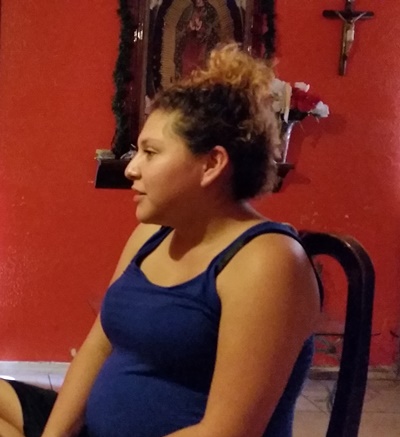 Monica Nuñez, 15, has promised her mom Edith Tellez that she'll finish high school despite some real-life challenges. A few days from the start of school, Monica didn't realize she has to pick a career path this year. Photo credit: Pasadena ISD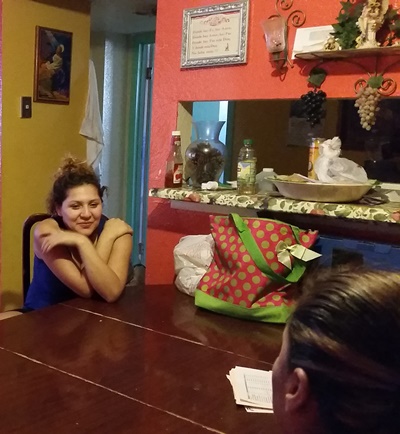 When asked what she wants to do when she grows up, Monica says engineering. Like all freshmen, she will have to pick a high school major this year. Photo credit: Pasadena ISD
We meet Edith Tellez, a single mom with two daughters.
Outside, their apartment complex is painted a washed-out beige. Inside, their living room is painted in bright colors.
We chat at their kitchen table.
Tellez wants to be involved. But it's not easy.
She works the night shift at a factory. She speaks mostly Spanish. And now her older daughter Monica is pregnant just as she's starting ninth grade.
Tellez still wants the best for her daughter.
"I tell her look around. There a lot of examples. What happens when you don't study is that we have to work until dawn for more or less pennies, and we're neglecting them. I tell her, 'You can keep on studying and get yourself a good career.'"
School's a few days away, and Monica doesn't know she has to choose a career track this year.
She likes the idea because she gets to pick — not somebody else.
Despite the challenges, she's promised her mom she'll graduate.
"Like what she said. I don't want to be working like that. Like how she works. It's a long time, like, she just gets here at night."
These two families aren't alone in grappling with the changes to high school. So some other parents are stepping up.
Victoria Syes leads the PTA at her daughter's school near downtown Houston. Her daughter's a senior so she's not affected.
But Syes still spent hours at a summer workshop to learn more.
"I am working on trying to craft that message for our parents because they don't know."
Her advice? Ask questions.
That's exactly what Vanessa Morales-Knight has been doing in Katy.
Navigating these changes has led her to ask something else: Why is Texas doing all this?
"I don't understand this rush to make our children seem more like adults. I don't want that. I don't want him picking a major. I mean I'm 40-something and I don't know what I want to do."
She wants her son to explore and be a kid before he grows up — for real.
This story was informed by sources in Houston Public Media's Public Insight Network. To become a news source, visit HoustonPublicMedia.org/PIN.