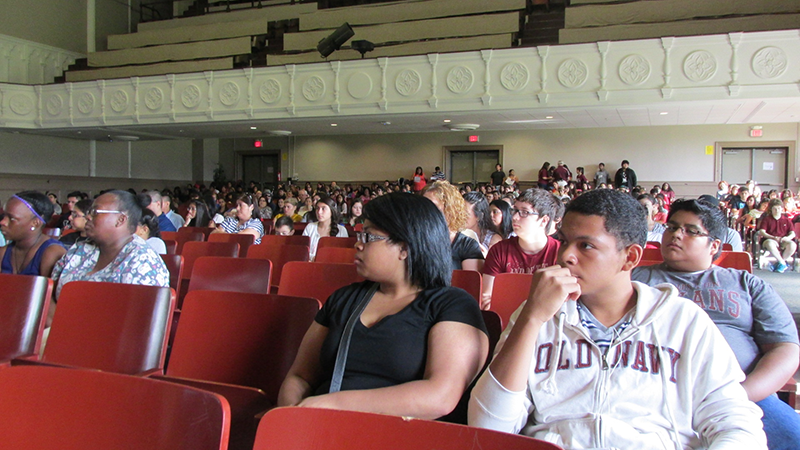 Starting this year, students now have to pick career paths in high school. It's a requirement under a new law known as House Bill 5. At this orientation, when asked how many people knew about House Bill 5, about 10 people raised their hands.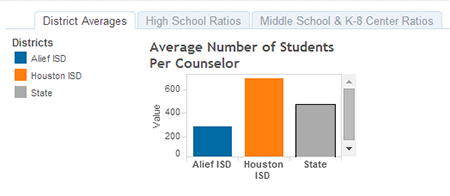 Click here to view the interactive graphs
The auditorium is packed at Reagan High School.
Ninth graders are learning about all the different clubs they can join — like cheerleading.
"Ready! Big maroon!"
Earlier at this freshman orientation, the school counselor gave a different kind of pep talk.
His name is Hossein Mazharian. Students call him "Mr. Maz."
His voice booms through speakers.
"I promise you, if you do these things, you will shine senior year!"
His tips for success? Leave street talk in the street. There's no TV in the restroom, so don't waste time there. Pay attention to your grades.
"This is not a story I'm telling you — I'm having a heart-to-heart talk with you."
If this heart-to-heart sounds a little impersonal, it's because there's not much choice.
Last year, "Mr. Maz" was the only official counselor at this campus of more 2,000 teenagers.
Step inside his small office and it's obvious he cares about his students.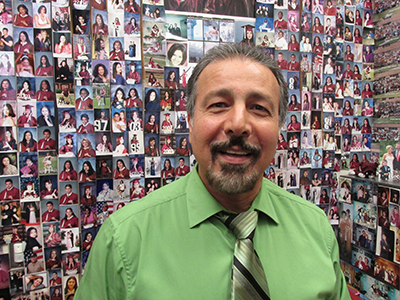 At Reagan High School, Hossain Mazharian estimates his caseload last year was about 1,000 students. His dedication shows in his office where photos of graduating seniors literally cover the walls.
Photos literally cover the walls.
"These are the pictures of my graduating seniors from years back, plenty of them. I've been here 34 years."
Mazharian works a lot with seniors and students in the magnet program.
But he knows all students need help — especially freshmen dealing with the changes to high school.
"I have to be able to see them, send for them, to check, recheck, to see how are they doing, why the grades are dropping. That kind of connection gets kind of lost when you have a huge number to deal with."
It's very common in Texas for counselors to advise hundreds of students. The statewide average is more than 400 students per counselor. In the Houston school district it's almost double that — nearly 700 to one.
That's not including nearly 40 middle schools and high schools in Houston that had no guidance counselor on staff last year, according to the district's records.
This is a problem because now counselors have more responsibility as Texas implements changes to high school. Counselors now have to guide students as they choose career paths in high school.
Alief Superintendent HD Chambers says he's been predicting this problem.
"I guess if you had to ask me what our big struggle is it's going to make sure we have enough counselors staffed to do this."
His district has been growing its staff.
Click here for the State Board Letter to Legislators.pdf
To help all districts, the State Board of Education wants more money for counselors in the next budget. Lawmakers provided no extra funding for advisors when they approved these changes last year.
But it's not as simple as adding more counselors. It's also a matter of where.
Ruth López Turley at Rice University says campuses with low-income students often have even fewer advisors.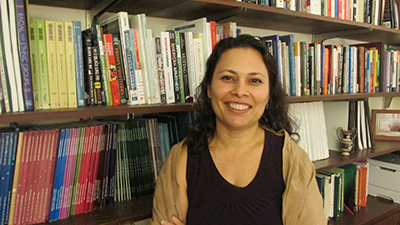 Ruth López Turley directs the Houston Education Research Consortium at Rice University. She says statewide there's not enough counselors. She also says the distribution of counselors is a concern. Research suggests that there are even fewer counselors at schools with many low-income students, who actually need even more guidance.
"I mean this is upside-down," she says.
"We need to have more counselors in the more disadvantaged schools because those students don't have very many resources otherwise."
López Turley says students also need information early enough so they can make the best decisions for their long-term future.
"I'm concerned that this legislation may only exacerbate those inequalities between the lower-income students and the higher-income students – if they're not adequately informed."
Back at Reagan High School, veteran counselor Hossain Mazharian has more support.
The six assistant principals will work with the freshman class. There's also a new counselor on staff.
They could still use more help.
"Parents, they need to know it's not all about the school. It's a partnership," Mazharian says.
It's hard, though, for someone to be a partner when they don't even know about these changes or what they mean for their children.
Click on the tabs to view the three graphs: District Averages, High School and Middle Schools Ratios