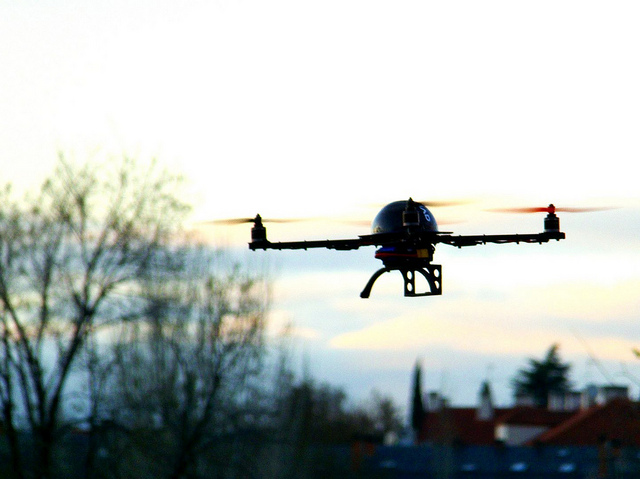 Drone photo by David Rodriguez Martin/flickr
This week the National Park Service put a temporary ban on using drones on park lands.
Big Bend National Park's Chief Ranger Allen Etheridge says the ban was set up after complaints about drone fliers bothering visitors and even disturbing wildlife at parks across the country. He cites one instance at Zion National Park in Utah, where people were flying drones to try and get pictures of Bighorn Sheep.
"And they actually did interrupt the Bighorn Sheep and separate some of the young from their parents," said Etheridge. "I know over at Mt. Rushmore, some drones have caused issues with the visitor experience when visitors themselves were flying drones over the amphitheater during programs."
He says Big Bend hasn't seen any problems from drones yet — but that the ban's a preemptive measure aimed at giving the park service time to study the issue.
Along with looking at how drones could cause problems for wildlife, local and national park officials will also be looking at how they might help — with things like search and rescue missions, wildfires, mapping and research.
"Once we get our head around that, we hope we're going to be able to put the unmanned aircraft to some positive uses here in the Big Bend," said Etheridge.
Park authorities will be enforcing the new rule, and violators could face fines around $200, but the ban's in some ways more of a message to people to be careful about how and where they fly drones, since it only applies to drones operating on or from park lands — and not to drones launched from outside national parks.
"So that does give them the ability to make some flights over park lands, because the park service does not have control over the airspace, that's gonna be FAA," said Etheridge.
There's no timetable for how long the ban will last — and Etheridge says it won't affect Border Patrol and Homeland Security drone flights in the region — park authorities have discretion for how they handle violations of the ban.