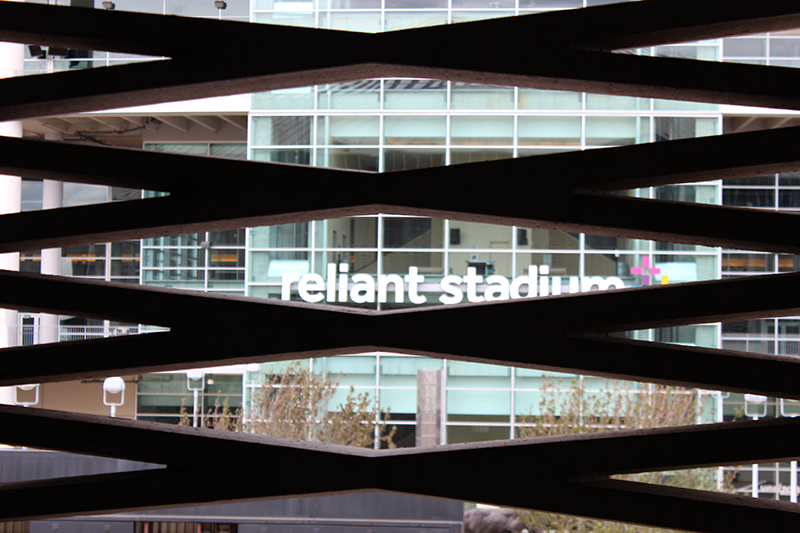 Looking at Reliant Stadium through an Astrodome window. Photo by Jack Williams
The seemingly never-ending saga about what was once known as the "Eighth Wonder of the World" continues.
A new survey shows that, when given a choice, two-thirds of Harris County residents favor turning the Dome into a green space over keeping it until a better solution comes along.
The survey was conducted by the University of Houston and Rice University. It was commissioned by the Houston Livestock Show and Rodeo and the Houston Texans.
At least one prominent supporter of keeping the Astrodome, Harris County Judge Ed Emmett, isn't impressed.
"You know, I hate to even call it a survey, because it was a questionnaire obviously designed to achieve a certain result," Emmett said. "You know, when the question poses the private/public financed reuse of the Astrodome — well, their reuse of the Astrodome is to tear it down. I don't know that I would answer a question about reuse and assume that that meant tearing down something."
The Rodeo and the Texans have proposed a $66 million development plan. It would demolish the Astrodome and create a park-like area with a visitors center and a museum on the Dome's history.
Emmett has made no secret of his dislike for the proposal. He would prefer for the Dome to be turned into a giant multi-purpose center.
Mark Jones, a political science professor at Rice and one of three researchers who led the survey, said the survey was designed to assess public sentiment regarding the Rodeo's and Texans' public/private re-use proposal.
"Obviously, we weren't able to test every possible proposal under the sun," he said. "We'd love to do that in the future if other concrete proposals come out. So obviously, there could be a rival proposal out there that is preferred to that by the Rodeo and Texans. But to date, no-one has presented that."
There certainly is no shortage of ideas among Houstonians and really anyone who knows about the Astrodome.
"I don't think it should be torn down," said Carlos Martinez from McAllen. "I think it should be developed into something else. Anything recreational for all the city or tourists."
Adam Monroe, who works at a restaurant on Discovery Green, said the Dome should be used. "I mean, if it's just going to be there and it's not going to be used, then yeah, I would say tear it down and make a use out of it."
Alex Soto from southeast Houston wants the stadium to serve as a homeless shelter.
Judge Emmett now hopes that private donors will come forward to save the Dome, or that voters change their minds after a $217 million bond proposal to renovate the structure failed last fall.
The folks at NRG Park, on the other hand, want it gone, so they can move on.