Alief Superintendent HD Chambers helped lead the effort to overhaul high school graduation plans in Texas that culminated in HB5, or House Bill 5. For our series Reinventing Texas Education, News 88.7 Education Reporter Laura Isensee talks with Chambers about his reasons for supporting these changes and his response to claims that the new law is lowering education standards in Texas.
TRANSCRIPT:
Why were you such a strong supporter of this education law?
Because I was watching not only from the superintendent's role, but as a parent, watching students who were bored, who are being forced to take courses in areas in which they have absolutely no engagement in.
The second reason I felt so strongly about it was because we were not preparing students to meet some of the workforce demands that our workforce community is expecting for students, whether they go to community colleges or to four-year universities or not. Those are the two big reasons I was supportive of it.
What do you anticipate being the biggest challenge this new school year?
I think the challenge is been what I've been predicting since the day we started talking about this and that's our counselors and the responsibility that this bill places on them to become more of an advisor, more of a counselor, which sounds ironic, and what a novel idea to let counselors to be counselors. But because counselors have been so caught up in being test administrators and facilitators of things that really have no relationship with advising or counseling students, number one it's going to take a mind shift change in many cases.
Two, we're now going to expect them to do more in this term, so in many cases the staffs may be short, they may not have enough of them. I guess if you had to ask me what our big struggle is it's going to make sure we have enough of counselors staffed to do this.
With this new education plan there's an idea that not everybody is going to go to college. But we're going to give students a choice and let them decide. Is Texas making a trade-off here between choice and lowered expectations?
That's a fair question.
Obviously, I don't think that's what we're doing. I think what Texas has done is it's understood that there is a reality. The reality is that not every student is going to go to a four-year university, not every student is going to go to a two-year university.
We had to figure out what are meaningful, rigorous ways to address that segment of student population that has already been there, that in my opinion, we have ignored. We've paid attention to those who want to go to The University of Texas — we pay close attention to them and A&M and University of Houston. We have not paid attention to those individuals who don't make that choice. And I think what this policy is doing, I don't think, I know it is, what it's doing is it's now giving legitimacy to those students in some courses that they need to be taking that are meaningful and preparing them to do something beyond just getting a high school diploma and not knowing what to do with it.
When do you think we're going to know if this works and what is success going to look like?
I think that we'll know whether the policy is working to achieve the objectives, which were: provide a more college- ready student, whether it's two-year, four-year, technical school; to provide a more workforce-ready student, whether it's through licenses or certificates.
I think our first blush-response is going to be probably in 2018-19. To truly determine whether it's been successful, I think we're two high school graduation cycles away. I think we're six, seven years of looking at what happened to those kids who graduated with a STEM endorsement. Did they go into higher ed? Were they successful in higher ed? I don't think we have to wait until they're a successful engineer. But I think we have to give some time to see how well were they prepared to be successful in college.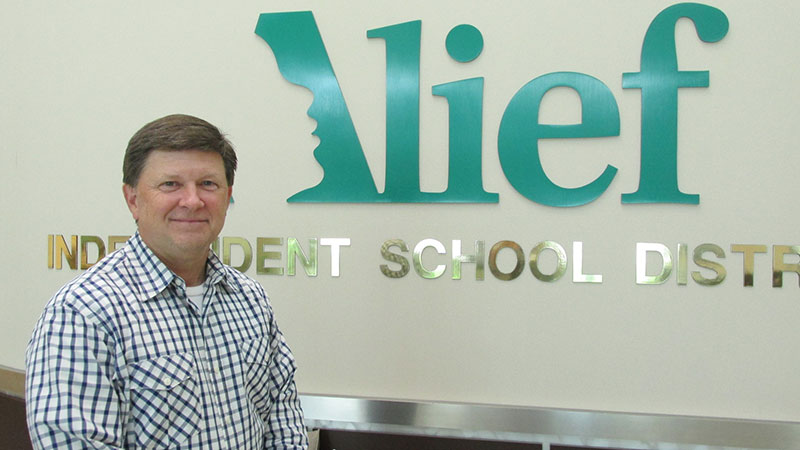 Superintendent HD Chambers stands in front of Alief ISD sign