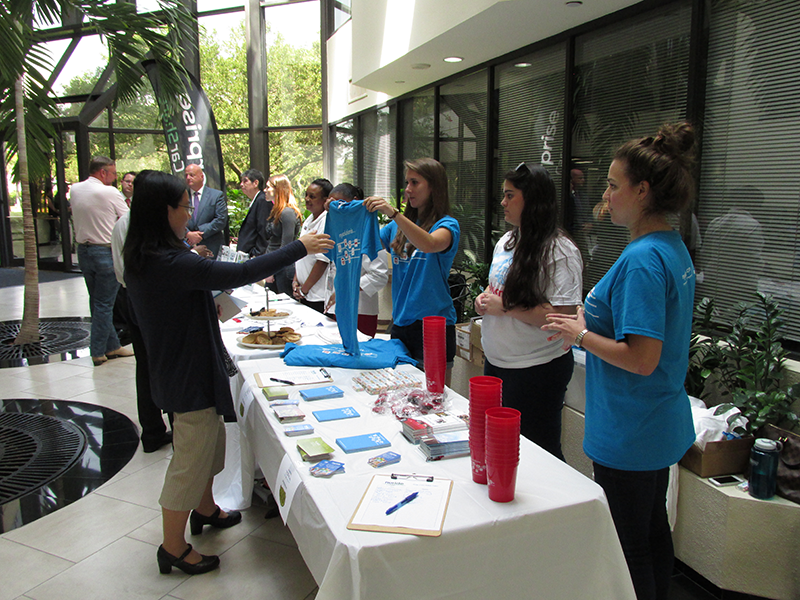 The Houston-Galveston Area Council is holding events to educate commuters about alternatives to driving alone.
If you commute to work in the Houston area, there's a good chance you do it alone. And it's not just you. Figures show a lot of people travel to work by themselves, and that adds up to a lot of cars on the roadways.
In an office park in west Houston, employees are learning about alternative commuting.
Karl Mueller is listening with interest. He drives every day to his job at an environmental services firm near I-10 and Dairy Ashford.
"Currently I'm riding by myself. I commute about 15 miles from my home in southwest Houston."

Mueller uses U.S. 59 and Beltway 8 to get to the office and it takes him about 20 to 30 minutes. Along the route there's a lot of traffic, wrecks, and construction.
"So all those things obviously can delay you getting to work and also contribute to added stress as you're driving."
And it's not only long-distance commuters who make that solitary trip.
Shiloh Hernandez only lives about four miles from her job. She says she could ride her bike but driving is probably her best option.
"Safety is an issue for the bike because there are so many people on the road in their cars. And then of course walking takes too long, and then the bus would take even longer than if I drove my car."
These solo drivers have plenty of company on the roadways. According to the Houston-Galveston Area Council, about 80% of commuters in the Houston area drive to work by themselves.
Veronica Baxter-Lamb is the Transportation Program Coordinator for H-GAC's Commute Solutions. She says unlike other parts of the country, it's just something people in Texas are just used to doing.
"You know, the congestion in our region didn't start overnight, and we have a long way to go to get our region where it needs to go in regards to transportation."
In response to Houston's familiar traffic tie-ups, H-GAC is holding events this month to help commuters find new ways to get to work. That includes carpools and vanpools that can use the HOV lanes. Other options include biking or riding the bus, or occasionally working from home.
And when it comes to promoting alternative commuting there's a sense of urgency. About 6.5 million people live in the 13-county Houston region. According to projections that number could nearly double by 2040.
Another issue is that the region still doesn't meet federal air quality standards. Figures show that cars and trucks are responsible for about 40% of air emissions.
Baxter-Lamb says any amount of ridesharing would be a big help.
"You can carpool one or two days a week, maybe once a week, but we want to have everyone try some type of mode."
And there are things the corporate world can do. Baxter-Lamb says they're working to educate businesses about tax breaks for commuter programs and the benefits of getting employees out of their cars.
"If an employee is willing to give up a parking space for example, that's less parking that the company will have to pay. So we can assist a company and show them what their bottom line is in terms of savings."
And those cost savings can also extend to riders.
Back in west Houston, Sheila Rygwelski is looking for ways to share her 25-mile commute from Richmond. She says if she could find another commuter who could work with her schedule, those savings could add up.
"I'd say, probably a couple hundred dollars in gas I would say every month."
H-GAC is holding Commute Solutions events through the end of August. You can learn more here.