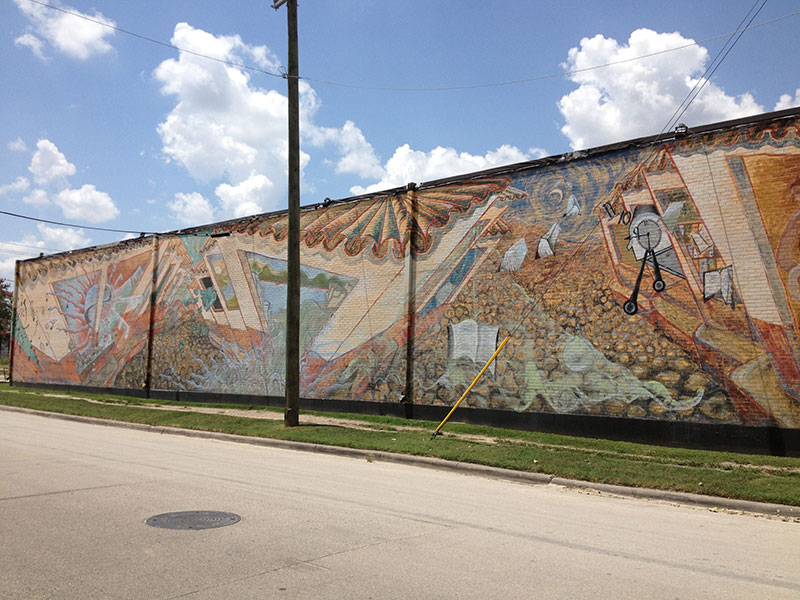 The mural, "Ventanas de Oportunidad" or "Windows of Opportunity," is located behind the original Ninfa's Restaurant in the heart of Houston's East End. It depicts how people, like restaurant founder Ninfa Laurenzo, transformed their lives by stepping through various windows and doors to a better life. It was the brainchild of local artist Mercedes Fernandez, who I met at a local restaurant.
She wanted some of her former students at Raul Yzaguirre High School to know that they could accomplish anything.
"You can sing; you can cook; you can play the piano; you can sing opera; you can write poetry and write a book; and you can paint and paint a mural," said Fernandez.
Students like Jessica Guiterrez, contributed to the mural by filling in each window and door. She's not giving up on the project.
"It really motivates me even more to raise more money for it, so we could have kids out there, our friends' children to come out and paint with us," said Gutierrez.
Another effort is now underway to restore the mural.
Diane Schenke is president of the Greater East End Management District.
"We've gone to Sherwin Williams and Sherwin Williams has agreed to donate the paint we'll need," said Schenke. "The Management District has agreed to prepare the surface, so that would involve scraping and putting the primer coat down."
The district will also help to raise the artist subsidies for Fernandez and her former students who've agreed to return and repaint the mural. For a link to the restoration project, visit Indiegogo.