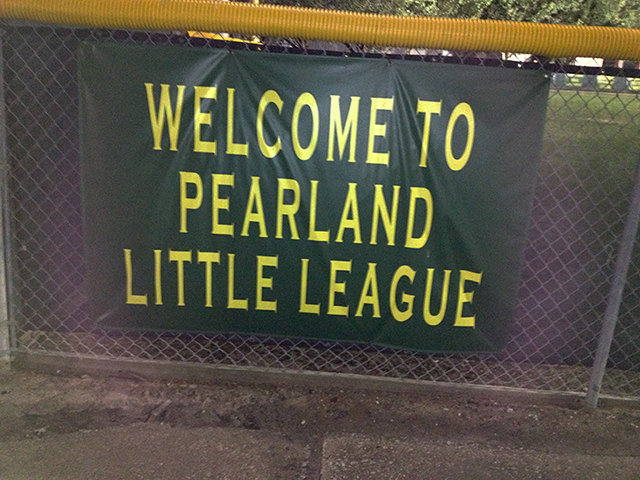 Sign reads: Welcome to Pearland Little League. Photo taken by Pat Hernandez
The Pearland East All-Stars are getting ready to play their first game of the Little League World Series. The team's success created a local buzz and drew in support from the community.
Steve Broeder is the treasurer for the Pearland Little League. He spoke from the field as he watched the first game of the World Series in Williamsport, Pennsylvania. It was an international matchup, the Czech Republic versus Korea.
"There's probably 15,000 people watching this first game right now," Broeder said. "The stands are full. We couldn't be more excited to be here."
Broeder is also the father of one of the players. His son Clayton is the team's center fielder and pitcher. Broeder says his one of favorite moments was Clayton's diving catch at a recent game against Texas West. It made the Top 10 plays segment on ESPN.
"These kids, a lot of them have been playing together since they were six years old," Broeder said. "They set their goal at six years old to get here, and they're here."
The Pearland East All-Stars will play their first game against Rhode Island Friday evening at 7.