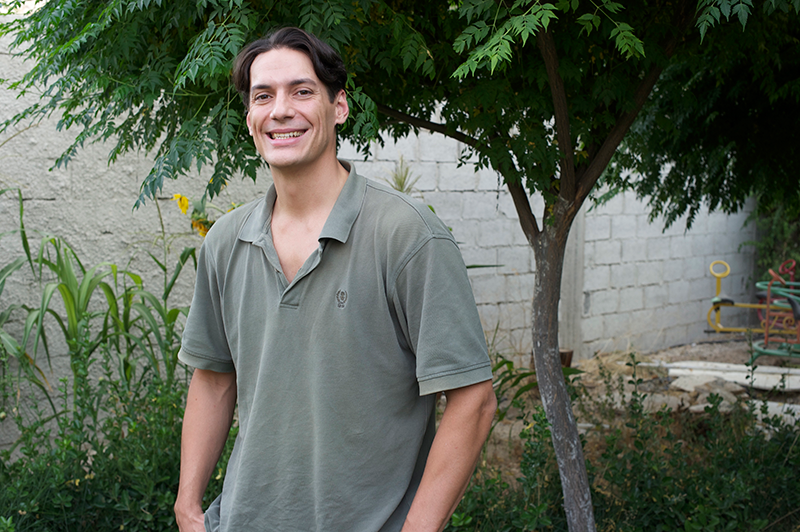 Two years ago today, Houston native and freelance journalist Austin Tice disappeared. He was one of just a handful of reporters covering the growing conflict in Syria for the Washington Post, CNN, the BBC, and NPR, among others. Then on August 14th, 2012, he vanished.
News 88.7's Craig Cohen recently sat down with Austin's parents, Debra and Marc Tice, to talk with them about their son, and what life has been like in the last two years.
Debra Tice says her son Austin was interested in journalism from the first time he inked his knees crawling across the Sunday paper. It's an interest that followed him throughout school, including as an undergrad at the University of Houston.
Debra Tice: "He's actually been published in every publication of every school that he has attended. So, I would say there's always been that writing in his blood."
Marc Tice:"As a family, we never watched much TV, but we listened to a lot of radio, and we read a lot, and you know, our family table was somewhere that we sat and talked about issues, local issues, national issues, international issues, so you know I think that contributed to his ending up working as a freelance journalist.
In late July of 2012, Austin Tice spoke from Syria with News 88.7's Ed Mayberry about the dangers some of his sources faced.
Austin Tice: "There's a very real security concern. You know, people are concerned about their faces showing up in photographs, because the Syrian government is notorious for exerting pressure on people by going after their families in really quite violent and atrocious ways."
The Tice's say Austin was equally aware of the risks he was taking, and how that security concern applied to him, as well.
Debra: "He was definitely aware, because his mom kept him aware, his journalistic colleagues kept him aware. I…I think he chose not to focus on that for himself. I don't think he was careless in any way. But I don't think that was his main focus."
Marc: "You know, since Austin went to Syria, we have learned a lot and developed an incredible respect for people like him to do that job, because to a large degree, they have to forget about themselves, in order to get the job done. And he would send us photographs with the faces of people around him blurred out for that very reason. When you're the reporter, you're the face of this information to the world, you can't really hide yourself."
Austin Tice had grown up dreaming of being an international correspondent for NPR. Beginning on August 14th of 2012, that dream became his parents' nightmare.
Marc: "It wasn't unusual for people in the field, journalists in the field, to lose touch. Because of just communication, because of the way they had to move from place to place. So, you know, a couple of days, I thought, 'yeah, this is worrisome, but not terrible. But after two days, I contacted his editors and they said, 'yeah, we're concerned too.'"
While some believe Austin Tice was kidnapped, there has been no indication of just what happened to him since a video surfaced six weeks after he disappeared, seeming to suggest he was being held by Islamic militants. Some believe that video may have been faked. If he's being held, by the Syrian regime or by its opposition, there has been no ransom, no public word of any kind.
Marc: "We could speculate until we drove ourselves crazy, and we found and learned and were advised early on that that kind of speculation just leads to, you know, madness."
Debra: "The title of that video is 'Austin Tice is alive'. That is 100 percent of our takeaway. Our son is alive, and now we are doing everything that we can think of to bring him safely home."
It's been two years since Austin Tice disappeared. Debra and Marc have had no contact from him, or from any captors. The Tices still don't know where he is, how he is, or who, if anyone, is holding him. But as they noted in a statement released this morning, they "will not give up" until they "see [their] son safely home."
You can hear Craig Cohen's full conversation with Debra and Marc Tice on Houston Matters, today at noon or anytime online.