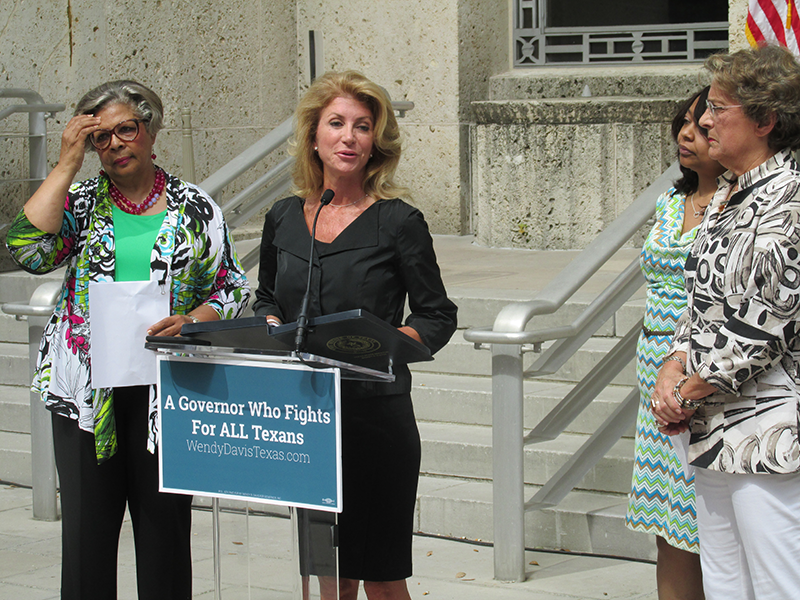 Wendy Davis speaks to reporters in front of Houston City Hall. She was joined by state Rep. Senfronia Thompson (left), city council member Ellen Cohen (far right) and Lavinia Masters, who was raped when she was in sixth grade.
Democratic gubernatorial candidate Wendy Davis' news conference in Houston comes a few days after the launch of her first TV campaign ad in her race against Texas Attorney General Greg Abbott.
The ad describes how a vacuum salesman offered an in-home demonstration for a woman in Seguin and subsequently raped her. The woman went on to sue the vacuum manufacturer for damages and her case went all the way to the Texas Supreme Court, where Abbott was one of the justices at the time.
The court ruled in the woman's favor, but, as the ad's narrator puts it, "Greg Abbott sided with the company against the victim, saying the company had no responsibility. Thank God this time Greg Abbott lost."
In Houston, Davis highlighted some bills she authored in the Texas Legislature that sought to empower rape victims, in particular a 2011 bill that helped eliminate the backlog of thousands of untested rape kits in the state.
"Rape kit" is a term for biological samples and physical evidence gathered from victims of sexual assaults. They help to identify the perpetrator.
"Those backlogged rape kits are finally being tested and survivors can now have evidence of their assault collected at almost any hospital," Davis said, "because of a series of bills that I was proud to have authored and worked with Rep. (Senfronia) Thompson to push through to passage over the last three years."
"She hits that sweet spot of talking about the issues that are good for her and the issues that are bad for Abbott," Brandon Rottinghaus, a political scientist at the University of Houston, said.
He said juxtaposing Abbott's role in the rape liability case from 1998 with her own achievements in giving victims of rape more power does two things:
"It allows her to focus on women's issues, which is something that is good for her, it plays to her personal narrative and helps to create that wedge for the women voters that she's going to need," Rottinghaus said. "It also helps to materialize the notion that Greg Abbott is a political insider who is willing to play to the interest of big money as opposed to the average Texan."
In a written statement, Abbott campaign spokeswoman Amelia Chasse called Davis' ad "despicable" and "desperate" and said Davis has no real vision for the future of Texas.
She also said Abbott has a strong record of fighting sexual assault and pointed out that in the case used by Davis, Abbott's decision wouldn't have prevented the rape victim to sue the offender's employer.
Meanwhile, a new Rasmussen poll shows Davis is inching closer toward Abbott and now trails by eight percentage points, down from 12 in March.
But the two candidates are now tied among women, the demographic Davis is trying to court. In March, Davis was winning the female vote by 12 percentage points.

The Wendy Davis ad, "A Texas Story"