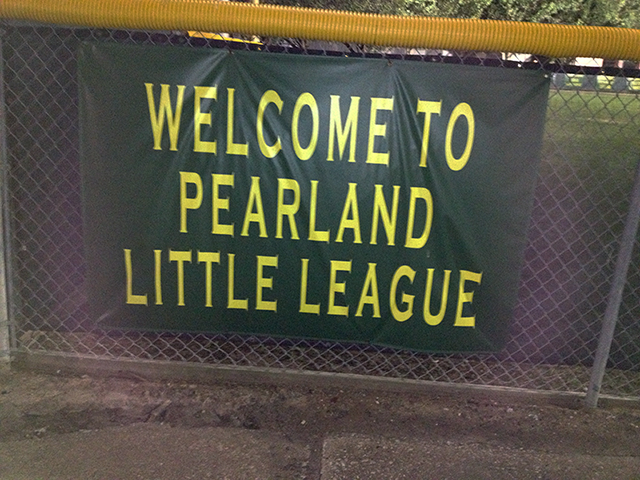 The community of about a 100,000 south of Houston is serious about baseball.
The Pearland Little League Baseball Complex was packed Thursday night.
Joe Aguilar is president of the program. He says the players on the team headed to Williamsport have played together for the last seven years, and are on a mission.
"Certainly on the field you can tell they're focused and that they're serious. You know, they've worked very hard to get where they are, so they're definitely well prepared."
But their parents, that's another story.
"Adults tend to stress out more than the kids. These guys, you know they lose a game, 15-20 minutes later they've forgotten about it. They run around being kids."
He says for him, the World Series fever began several years ago.
"The 2010 team, we were all watching, and even as a father of a three year old, you start dreaming about your son being able to achieve what those boys achieved. But what I've learned was, the interest in baseball goes up."
There's been an increase in baseball registration. The hype in Pearland for the next couple of weeks will intensify.
Resident Steve Welts says he loves being part of the excitement.
"It's a lot of fun to see everybody supporting all the young kids and it's really neat to get to see their faces on the TV. Everybody kind of comes together and you see all the writing in the windows of all the shops and all the trucks and all the Pearland flags running around. So it's really neat to see it."
Eight teams from the U.S. and eight from throughout the world meet in the 68th Little League World Series that begins next Thursday. Peyton Birkelbach says the Pearland ball-club deserves to be there.
"The boys have put in a lot of hard work, and they deserve everything they've earned hopefully they keep it up," says Birkelbach.
"What can something like this do for the city?" I ask.
"Aww, it'll definitely generate some interest for the youth," says Birkelbach. "The younger kids see what the older brothers are doing."
Players leave for Williamsport in the morning to prepare for their first game next Friday.
To help defray the costs for airfare and lodging for parents of the players, there'll be a couple of fundraisers. One takes place tonight from 6-8 p.m. at the Pearland High School Football Stadium, and tomorrow at 5 p.m. at Killen's BBQ.