After several hours of debate, Houston City Council has cleared the way for app-based transportation companies to operate legally. Council approved the new ordinance by a vote of 10-5, with two council members absent.
Mayor Annise Parker voted in favor of the new ordinance. She says she hopes it serves as a blueprint for other cities now having the same debate.
"And I think we did something positive for the citizens of Houston who rely on vehicles-for-hire to navigate the city without doing something that would have a negative impact on existing providers."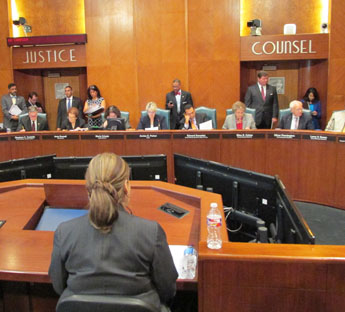 Houston Director of Administrative and Regulatory Affairs Tina Paez answers questions from council members about vehicles for hire.
But Parker admits the ordinance isn't perfect and may need to be tweaked in the future. She says the city is going into totally new territory by allowing transportation network companies to operate.
"This is a technology that is destructive to very entrenched, existing business enterprises, and in fact one of the most heavily regulated business enterprises in any big city in America."
That "enterprise" here in Houston is Yellow Cab, which provides most of the area's cab service.
Yellow Cab president Roman Martinez has been heavily involved in the debate. He says his taxis are ready to share the road with the newcomers.
"We're going to compete. We just wanted to make sure that the playing field was level and that everybody was going to play by the same rules. Council had a little bit different opinion about what those rules are."
Before the final vote, Council had to approve changes to existing transportation rules to allow companies like Uber and Lyft to compete with taxicabs. Unlike existing cab companies, Uber and Lyft operate solely through smartphone apps. Drivers use their own cars, and many only drive part-time.
Some of the changes deal with accommodations for the handicapped. Under those amendments, at least five percent of the companies' vehicles must be handicapped accessible within three years.
The debate then turned to insurance. Council voted down a requirement for drivers to carry commercial insurance, something that's already handled by the transportation companies.
Council also refused to put a cap on the number of drivers each company can use.