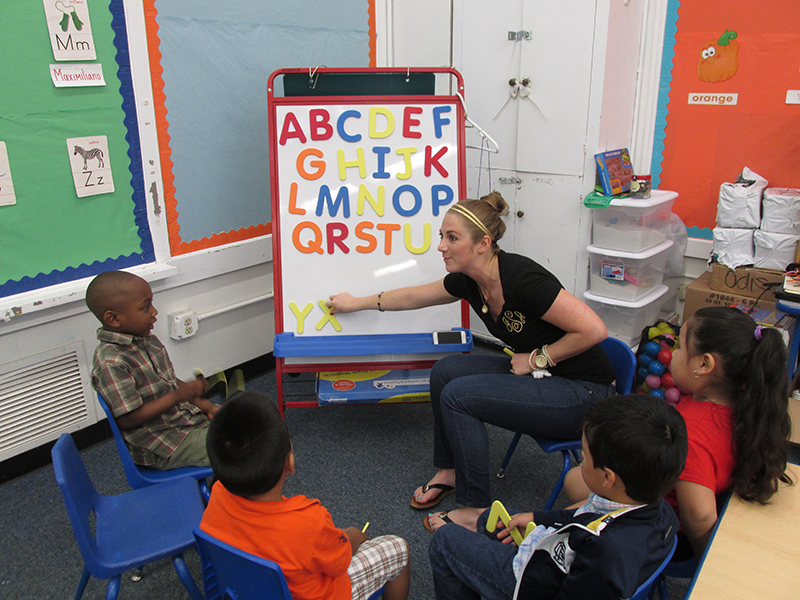 Teacher Jamie Stippel coaches her students on the last five letters of the alphabet. She's getting them ready for kindergarten.
In North Houston at Jefferson Elementary, a small group of four and five-year-olds sit in a circle.
There's an easel in the middle covered with oversized letters of the alphabet.
They're learning new sounds with their teacher Jamie Stippel.
"Good job guys!" she tells her students.
"OK, so now we're going to go over these last five letters of the alphabet. Who knows what this letter is?
V!
What sound does V make?
Vvvvvv"
Stippel normally teaches kindergarten.
This summer, though, she's helping kids get ready for kindergarten and even pre-K.
Most of her students have never attended school at all, like Jayla. She's four years old and a little shy.
"Jayla, what letter? W."
The idea is for Jayla and her classmates to attend this four-week summer program and become better prepared for school.
Think of it as a "kindergarten boot camp."
It's a brand new idea that the United Way of Greater Houston is trying out with Avance, a community partner.
The camp is freefor 40 students through a $50,000 grant. It also includes classes for parents.
Heather Land, the camp coordinator, says the first step is getting kids familiar with the school routine.
"We would like for students to be able to follow directions from their teachers. And we want them to be able to sit nicely and have good manners, say yes ma'am and no ma'am and thank you and please — those kinds of things."
United Way got the idea for the camp when the principal at Jefferson mentioned that lots of kindergartners had never stepped inside a formal classroom before. That made their first year more challenging.
Land says a month really isn't enough to cover everything in pre-K. But it's better than nothing.
"You do the best that you can in what you're given. These four weeks have really provided the students with a lot of really good experiences and just their foundation of ready to start school."
But what does a kindergartner really need to know?
Dale Farran studies early education at Vanderbilt University. She says young students need to develop three key areas. The first is language.
"Language skills and extensive vocabulary—that's the area of literacy and language that's really important long term."
The second area is math — and not just counting numbers but concepts — like how on a number line three is closer to five than the number 10.
The third one is something called grit.
"Focusing, persistence, willingness to tolerate not being so successful and then trying again. If they go into kindergarten with those three sets of skills well in hand, the likelihood is pretty great they'll do well".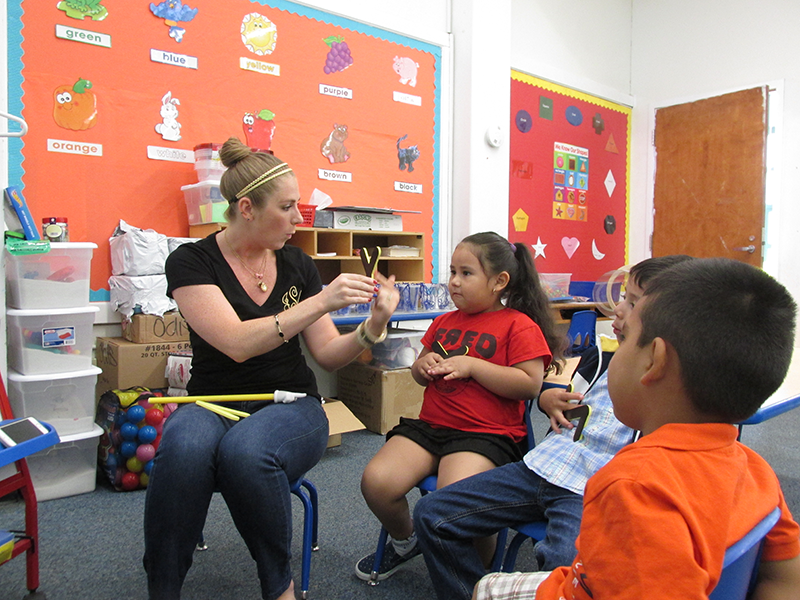 Teacher Jamie Stippel works with 4-year-old Jayla on her letters. This summer program is Jayla's first experience with school.
Back at the summer camp, kids are doing pretty well with their letters.
Their teacher says they've come a long way in a few short weeks.
What's more, their parents have noticed a difference.
Jayla's mom Ana Ramirez says her daughter wants to read books at home.
"Because she likes school a lot. She's always asking, 'Mommy what time? Tomorrow is my class? Tomorrow is class? Saturday and Sunday she's on top of me. She wants to go to school all the time."
Ramirez says she wants her daughter not only ready for school but ahead of her future classmates.
And if this new kindergarten boot camp works, it could spread to other parts of Houston.