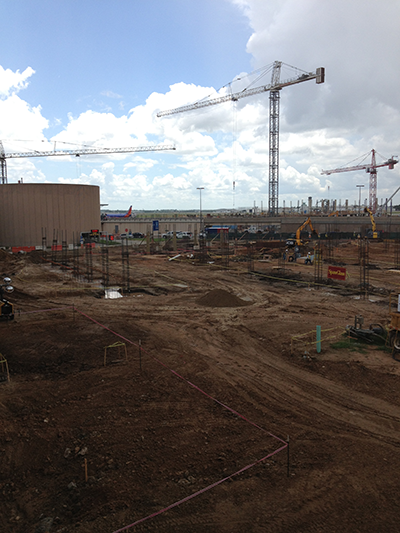 In the foreground is the location of the new four-story parking garage. The cranes are located at the site of the new Southwest Airlines International Terminal.
On one side of the ramp, behind the entrance, is the new five-gate-terminal that will accommodate Southwest's entry into international travel.
On the other side will be a new four-story parking garage.
Casey Wagner with Walker Parking Consultants, says Hobby's expansion resulted in the need for more parking.
"This will accommodate that future growth, said Wagner. We're really designing for 20 years from now, and so as the airport contains expand and add gates, the parking will be able to accommodate that through various different levels."
The terminal site has a lot of concrete beams rising up in the air. They will serve as the frame for the new building. The new garage has steel pipes that are awaiting concrete to be poured that will hold the four story structure. Once it opens, the garage will offer amenities like 10 charging spaces for electric vehicles and a parking guidance system that will show open spaces with LED indicators: green for available and red for taken.
"I think the biggest thing we have is the cascading ramp," says Wagner. "We don't have the spirals anymore that are confusing and uncomfortable because they're so tight. So there's one central express ramp that will feed both garages to Hobby Airport."
Wager adds at more than a million square feet, it is more than three times the size of the new terminal that will connect to the garage. The two projects total $156-million dollars and the city will pay about $55 million for the new parking garage.
Houston Airport officials say parking prices should not go up as a result. Both projects should be completed in 2015.