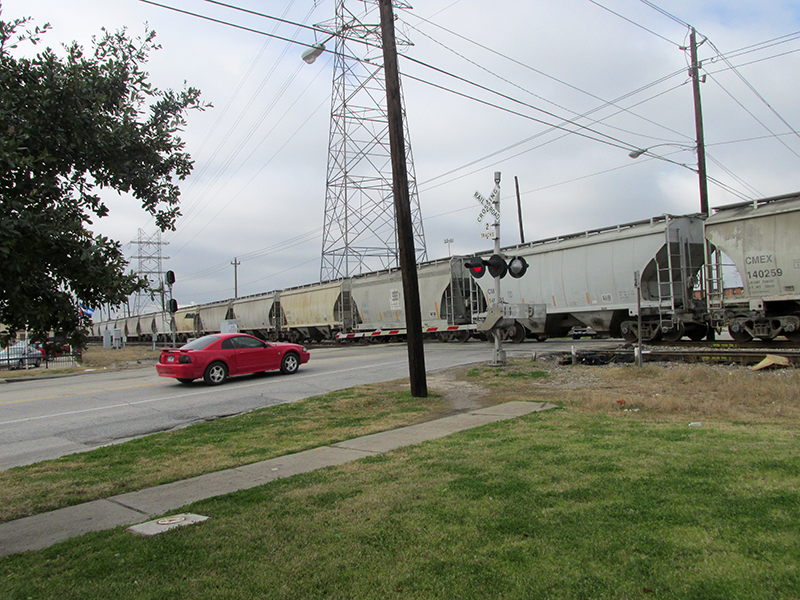 Metro plans to build an overpass to take light rail trains and vehicular traffic over the freight rail crossing on Harrisburg at Hughes Street.
Metro is moving ahead with its plans for a light rail overpass in the East End, now that the City of Houston is pitching in funds for the project. City Council has voted to allocate $10 million dollars to help Metro build an overpass that will take both vehicles and light rail trains over the freight rail tracks on Harrisburg at Hughes Street.
The overpass is crucial to finishing the new East End line. When it opens in December, trains will stop a few blocks short of the Magnolia Transit Center because they can't get across the tracks.
Metro had planned to build an underpass at the crossing, but now it says it can't do that because of concerns over soil contamination.
East End City Councilman Ed Gonzales was a big supporter of an underpass, and he even promised to contribute some of his district funds to build it. He says he's now convinced the contamination threat is just too great.
"At the end of the day we have to come together as a community. We have to think about what's best for the greater Houston community. And while maybe our position didn't prevail in the end, we still have to stay focused on the end game."
Under the city's agreement with Metro, the agency will get three million dollars upfront for design work. Once that's done, Metro will get the remaining seven million.
Metro has already allocated $33 million of its own funds.
CEO Tom Lambert says the extra money from the city will allow them to build an overpass that carries more than just trains. Without those funds Metro was planning a rail-only overpass.
"The traffic lanes going over, the sidewalks going over, and train going over gives another mobility choice for that very significant part of our community. At the same time we're going to continue with the traffic lanes at-grade and the sidewalks at-grade."
And Lambert says they plan to get lots of input from neighbors on the project's final design.
"We're going to now move very quickly to set up some community meetings, to make sure we're getting feedback from the community on the aesthetics, wayfinding, landscaping, and all the things we committed to do."
Harrisburg residents and business owners weary of construction will have to endure a little more before the East End line is complete. Metro says the overpass project will take at least a couple of years.