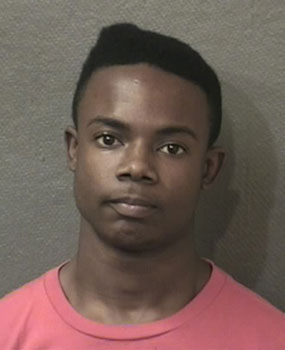 Harlem Harold Lewis, III
HPD photo release
The jury handed Judge Mark Kent Ellis the verdict after deliberating for 12 hours over two days.
Both Harlem Lewis III and his attorneys hung their heads when the judge announced that the panel had found no mitigating circumstances that would justify sparing Lewis' life.
Harris County District Attorney Devon Anderson, the lead prosecutor in the case, said she felt relief after hearing the verdict.
We do not seek the death penalty lightly and we use the statute to kind of lead the way on whether we should or not," she said. "And I truly believe that Harlem Lewis is a danger to anyone who comes across him, whether it be on the streets or in prison."
During the trial, defense attorneys argued that Lewis made a terrible mistake and his life should be spared.
You don't know what it's like to stand and wait to see if a human being is going to live or die," said Tyrone Moncriffe, one of the lawyers who represented Lewis. "So it's always high tension. We know Harlem Lewis better than anybody, probably. We grew attached to him, we saw him as a human being."
Earlier this month, Lewis was found guilty of murdering Bellaire police Corporal Jimmie Norman and Terry Taylor during a traffic stop on Christmas Eve 2012. Taylor tried to help the officer, who was struggling to subdue Lewis.
As with all capital punishment cases in Texas, there will be an automatic appeal to the Court of Criminal Appeals in Austin.