If you walk around any hospital in America today, you'll most likely see someone getting a transfusion of red blood cells. In fact, blood transfusion is the most common procedure performed in hospitals. It's used during emergencies, surgery, and for conditions like anemia and cancer. But researchers are still fine-tuning the process, hoping to make transfusion of blood even safer than it is now.
In a laboratory at the University of Houston, Dr. Sergey Shevkoplyas studies the shape of red blood cells. Ideally, they are plump disks with an indentation on each side – sort of like jelly doughnuts.
That shape is crucial for the functioning of red blood cells, which carry oxygen throughout the body.
The problem is that when you take blood from a blood donor, and put it in a storage bag for a sick patient, and then stick that bag in a fridge, some of the reds cells don't keep their shape. Some even burst apart.
"As you know, anything you put in the refrigerator, anything will go bad eventually," Shevkoplyas said.
Even after storage, most of the red cells – 85 or 90 percent – do just fine. But over time, a minority start to degenerate into weird shapes.
"(They go) from nice looking 'doughnuts' to very flexible doughnuts, let's call them that," Shevkoplyas explained. "And then to spiky echinocytes – basically looking like little sea urchins, and then go into spheres, basically just tiny balls of packed hemoglobin."
The FDA says donated blood can be stored and used for up to 60 days. But that's a maximum.Newer blood seems to be better for patients.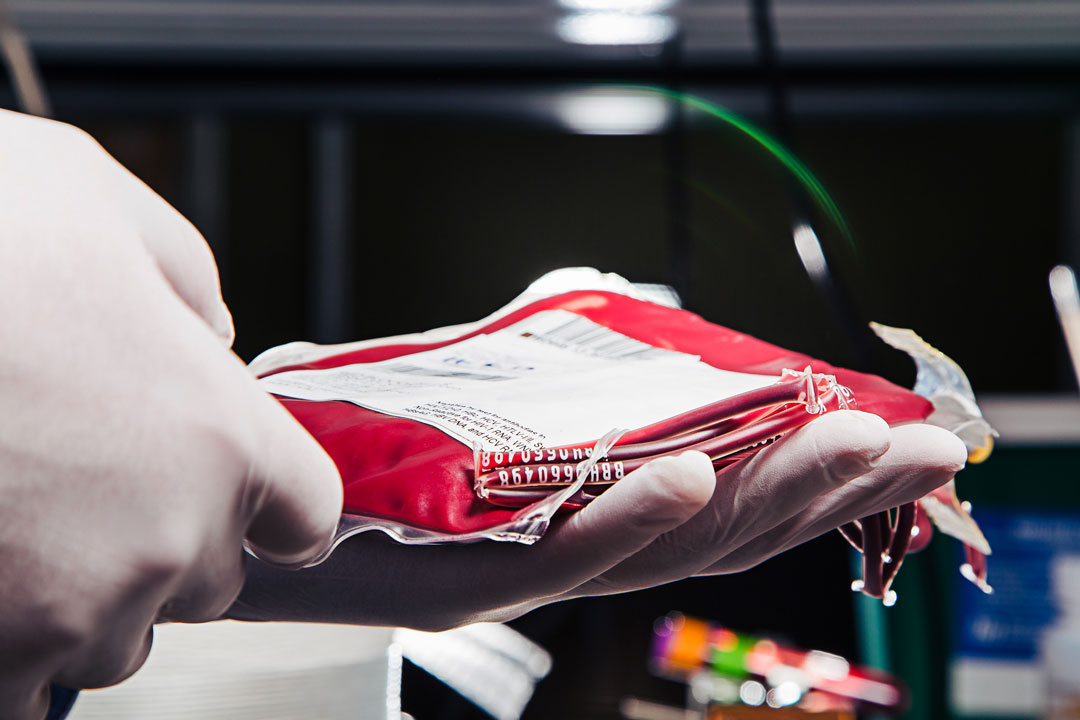 Various studies have shown a troubling correlation between older blood units and an increased risk of infections or other medical complications in patients who receive the older blood.
"Thirty years ago this would never be considered an issue," said Dr. Steven Spitalnik, a professor of pathology and cell biology at Columbia University Medical Center. Spitalnik is familiar with Shevkoplyas's research and has been a peer reviewer on some of his papers and grant proposals.
"What's happened is blood transfusion has gotten safer and safer and safer, and many of the big issues have been happily handled appropriately."
Those big issues were contamination of the blood supply with HIV and hepatitis C. But now, with effective screening in place, researchers like Spitalnik are honing in on the remaining risks associated with donated blood.
Spitalnik's own research tries to understand why donated blood that is less fresh can cause medical complications. His hypothesis is that as damaged red cells are transfused into a recipient patient, the body rushes to clear away these damaged cells. As macrophages essentially "eat" the cells, they must process the hemoglobin in those cells. That causes a rapid spike in iron levels in the patient, and bacteria thrives on iron. Infections can be the result.
Back in the University of Houston lab, Shevkoplyas held a thin shiny disk in his hand, about the size of a cookie. "This is a silicon wafer and we have essentially imprinted micro-fluidic channels here," he said.
The idea is to stack many of these wafers together, and force the donated blood through the tiny channels right before it enters the patient.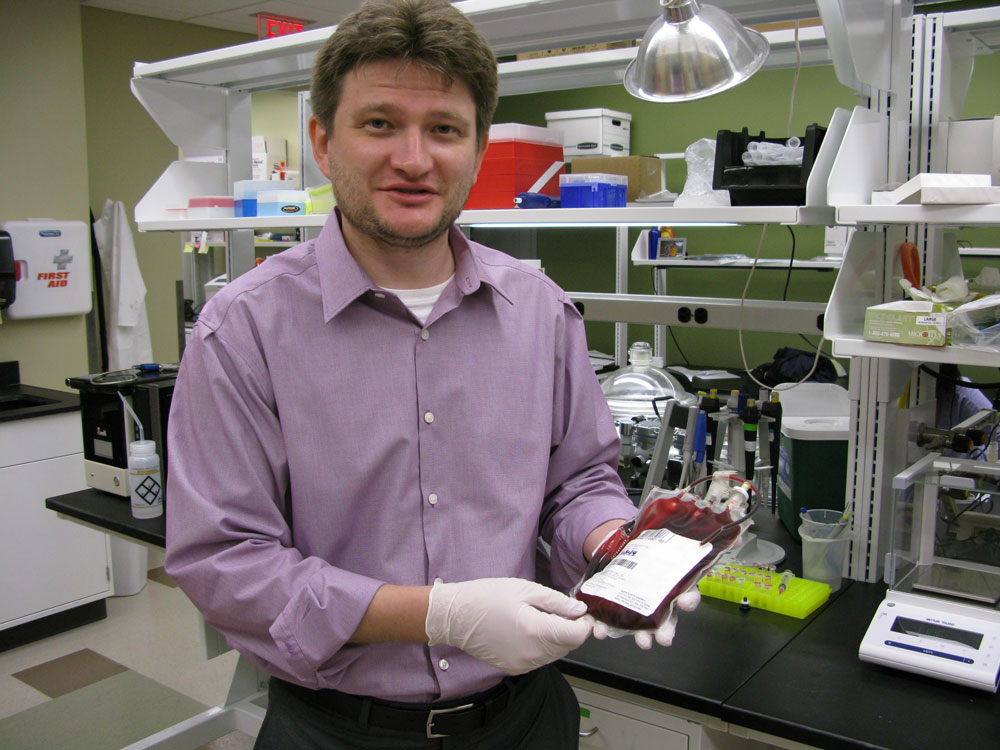 Shevkoplyas believes the channeling process can separate out the funny-shaped cells and other waste products, and isolate the healthy red cells. And he's got the backing of the National Institutes of Health, who have given him a $1.8 million grant over five years. (Spitlanik was not part of the committee that approved that particular grant.)
"I want to make it work," Shevkoplyas said. "We want to make it work. Everybody here in this lab is very much motivated to actually have an impact on real patients from the technology that we do."
But Shevkoplyas still has to perfect the device and test it on animals. So any clinical trials are a few years away.