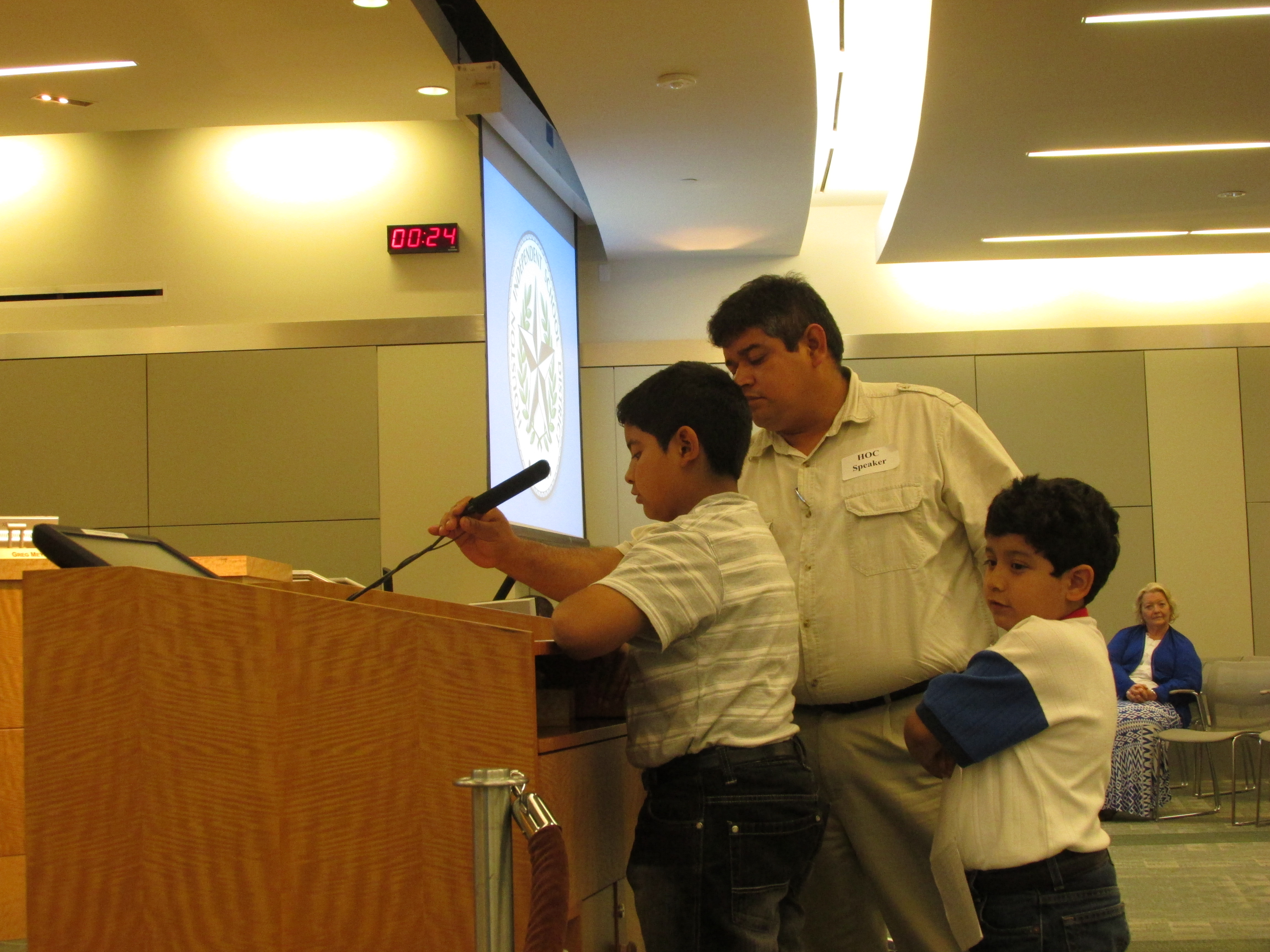 Jefferson Elementary parent, Roberto Mejia, (joined by his sons, Ricardo and Carlos) questions the investigation into cheating at his children's school. Thursday the Houston school board voted to fire five teachers from Jefferson after outside attorneys determined there was evidence they cheated on state exams.
When attorneys started investigating possible cheating on state exams last November, they interviewed many students — mostly children in the third and fifth grades.
But last night at the Houston school board meeting, one student gave a different kind of statement.
"Good afternoon, my name is Carlos Mejia. My school turned upside down this school year."
Sixteen teachers from his school, Jefferson Elementary, were removed from the classroom six months ago when the district launched its investigation.
"And I would appreciate if you return our good teachers back. Thank you and God bless you."
But even as he gave his request, five of those teachers were already fired.
The board voted to not renew their contracts Thursday night earlier in the meeting.
After the meeting, I asked Superintendent Terry Grier why he recommended firing them.
"Basically the evidence that we have indicates that they were involved in test irregularities and that's why we made that recommendation.
What evidence in particular convinced you?
I can't get into the details."
The district has not released the full details of the investigation – only a summary of the final conclusion.
Grier says that he will release the full report after they finish investigating 11 more teachers in the probe.
While the evidence has not been made public, what does seem clear is that the superintendent wants to send a strong message about cheating.
"There's no place for adults helping kids on tests anywhere in American education. It's just not."
But lawyers for the teachers and even some parents continue to question the investigation itself.
Here's Carlos's dad, Roberto Mejia.
"HISD did not even look at the attendance record. A lot of these teachers that are now accused of cheating they were not even at school and they did not give a test."
Many of those teachers are contesting their case with help from attorneys with the Houston Federation of Teachers. Gayle Fallon in the union president.
"To me, it was a witch-hunt. They decided that they were guilty because the test scores were too high."
Last year, 100 percent of the English-speaking third graders passed the reading and the math exams at Jefferson. It's a low-income, predominantly Hispanic school in north Houston.
Again Fallon.
"To me, that's an insult to the community. Are they trying to say because they're poor and Hispanic they can't score well?"
Fallon says the union and their attorneys will fight to get the teachers names cleared.