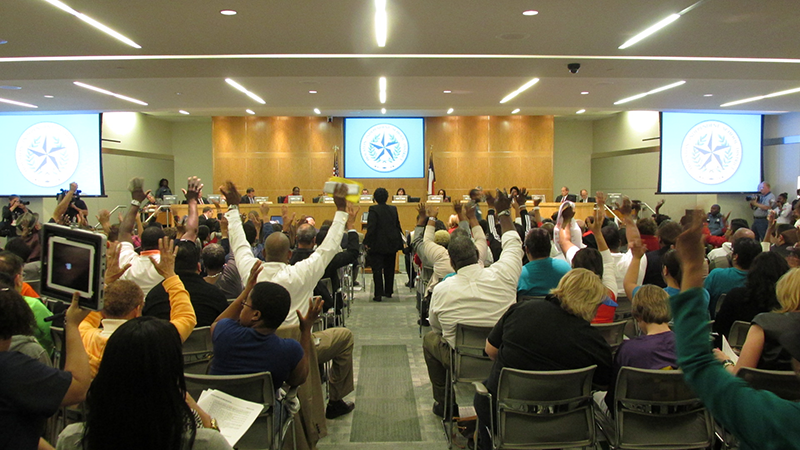 More than 70 people spoke against the proposed school closures at the HISD board meeting in March. People raised their hands in solidarity for some speakers.
At the end of this school year, Jones High School is supposed to close down as a traditional campus.
In the fall, it's supposed to reopen as vocational school, called a Futures Academy, with tracks in health sciences and construction technology.
But leaders with the Houston NAACP say the way the Houston school district decided all that violated Texas law. Their attorney Taft Foley II is asking a judge for a temporary restraining order.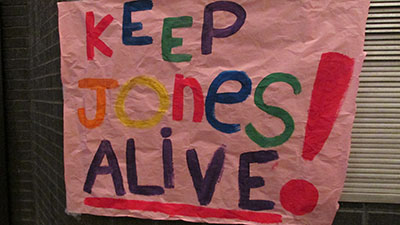 A banner from a meeting at Jones High School in February.
"What we're trying to do is we want them to put a hold on the repurposing of Jones and give the community and opportunity to weigh in on that subject," he said.
Foley says the community didn't have a chance to speak about making Jones a career high school.
The original proposal was to close it down. But the school board changed that during the meeting in March.
"What they did was a bait and switch," Foley said. "They baited the people to talk about one topic. They switched the topic. So that, one, they didn't get input on the consolidation of the schools and, two, they sprung the repurposing of Jones on them."
Foley says that violates a Texas law that requires governmental bodies to post agenda items 72 hours in advance.
He says at the heart of the matter is something else: civil rights.
"We want to fire a shot across the bow at HISD and let them know that we are not playing games with them when it comes to the education of our children," Foley said.
HISD says in a written statement that it's their practice to carefully comply with the Texas Open Meetings Act.
Both sides will present their cases later this month in Harris County district court.
Related to Jones High School
Houston School Board Votes To Save One School, Close Another