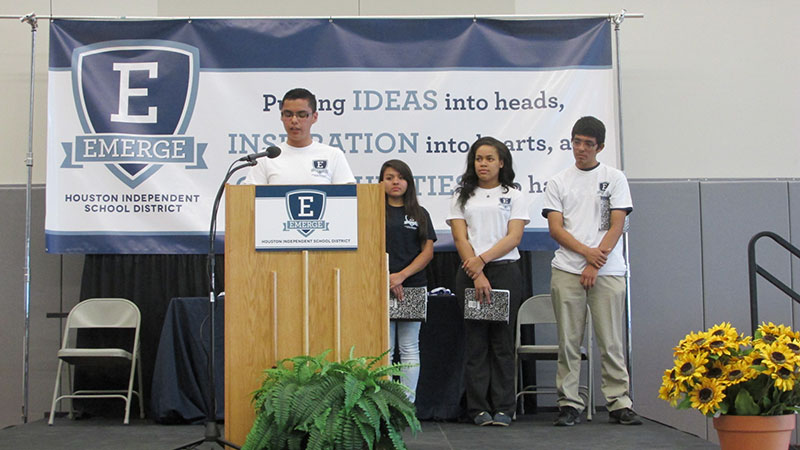 High school seniors Felipe Guillen, Cierra Duckworth and Edgar Avina read parts of their college essays in an awards ceremony for Emerge. The program tries to connect students in underserved communities to top tier institutions.
The auditorium at Carnegie Vanguard High School near downtown is packed. Students, parents and teachers are gathered here for a special ceremony. It feels almost like a high school graduation — except that's still weeks away.
This becomes very personal very quickly as seniors tell their stories.
"For my family, education has always been highly valued but never achieved. My mother became pregnant at the early age of 17. My grandmother did not have the funds nor the desire to continue school. My great-grandmother dropped out of school in the 8th grade to provide for her family."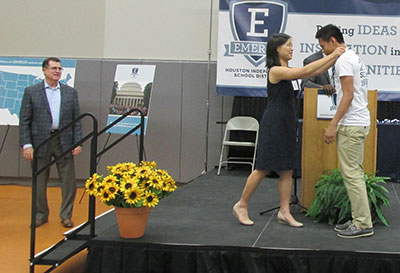 More than 60 seniors graduating from the Emerge program will head to top tier universities in the fall, including the likes of Yale, Stanford and Rice.
"I'm Cierra Duckworth and I currently attend Lamar High School and in the fall I will be at Rice University."
Like Cierra, many of the seniors here will be the first in their families to attend college.
They are part of a program called Emerge. It helps low-income, high-achieving students apply to top tier schools.
The goal this year was to get at least 40 high school seniors into top colleges. It surpassed that. More than 60 students are heading to schools like Yale, Stanford and Rice.
"I think we're just scratching the surface."
That's Rick Cruz. He started this project four years ago. Now he's an assistant superintendent bringing it to students across Houston.
"Some of the students who got on that stage were kids that we started working with when they were in ninth grade, and we were all volunteer teachers going out working and selling them a dream and to see them finish high school and accomplish their dream is, is — I mean, there's no words to describe how I felt."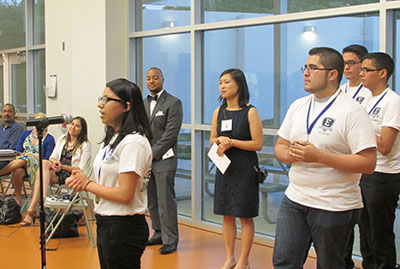 Dozens of students, parents and teachers shared what this program and milestone meant to them during an open mic session near the end of the Emerge awards ceremony.
Students and parents also tried to express what this milestone meant to them. They took turns speaking at an open mic near the end of the ceremony.
"… Special thanks to August Hamilton because he became my best friend throughout the whole process and I want to thank him…"
"…Yale, Harvard, it was very surreal and it just lets me know that a kid from HISD with big dreams can do it. So thank you for having a lot of heart and setting a good image for me … "
"Mami Papi los quiero mucho. Gracias por siempre apoyarme y estar ahi cuando, when times got tough and it was hard… "
"Congratulations para todos! Gracias!"
After that outpouring of emotion, some of the graduating seniors had advice for younger students.
Edgar Avina says set the bar high and reach for it.
"Honestly don't limit yourself. I think one thing that I did in high school a lot was tell myself, 'I can't do this. You know, I can't go to an Ivy League University. I can't do this, I can't do that.' You have to dream big and be humble about it."
Edgar has been accepted to Yale University where he will study in the fall.
To learn more about Edgar and this program, listen here.