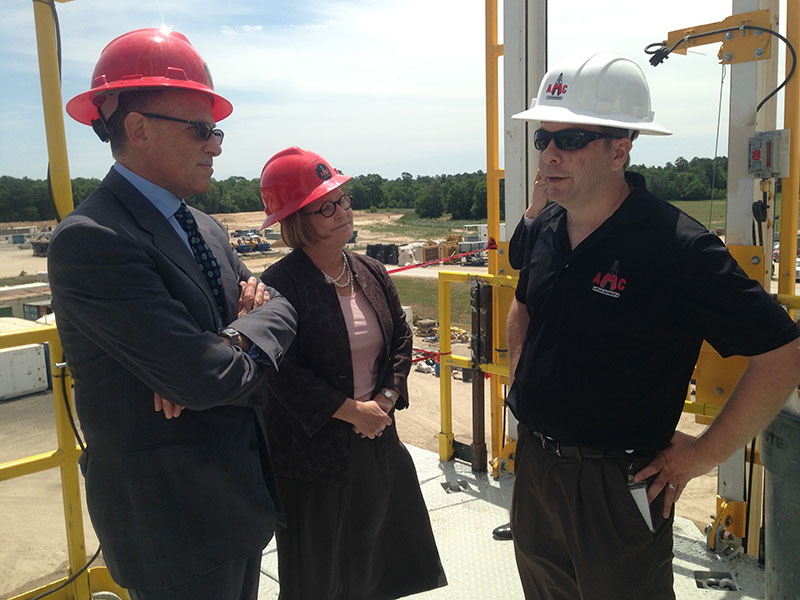 Fred P. Hochberg (left), chairman and president of the Export-Import Bank of the United States, tours a drilling rig at Applied Machinery Corp.'s manufacturing facility in Conroe.
The head of the Export-Import Bank of the United States wraps up a tour of Houston area businesses today. The visit comes ahead of what could be a tough vote in Congress over reauthorizing the bank's charter.
The Ex-Im Bank is an arm of the federal government that provides credit insurance for U.S. exports when private lenders won't. Its charter expires in September.
I caught up with bank chairman and president Fred P. Hochberg while he was touring the new Conroe facility of oil rig manufacturer Applied Machinery Corporation.
"The Export-Import Bank [reauthorization] is a jobs bill that, frankly, costs the taxpayer no money. In fact, we run a profit. And it makes sure that companies like AMC, where we are today, and others, can compete against foreign competition and foreign governments that are supporting their exporters."
Erik Ostrander is president of AMC.
"Ex-Im enabled us to do three deals back in 2012 that we wouldn't have been able to touch without their assistance."
The bank has supported nearly $11 billion in export sales from Houston companies since 2009, making Houston the number one market in the U.S. to receive such support.