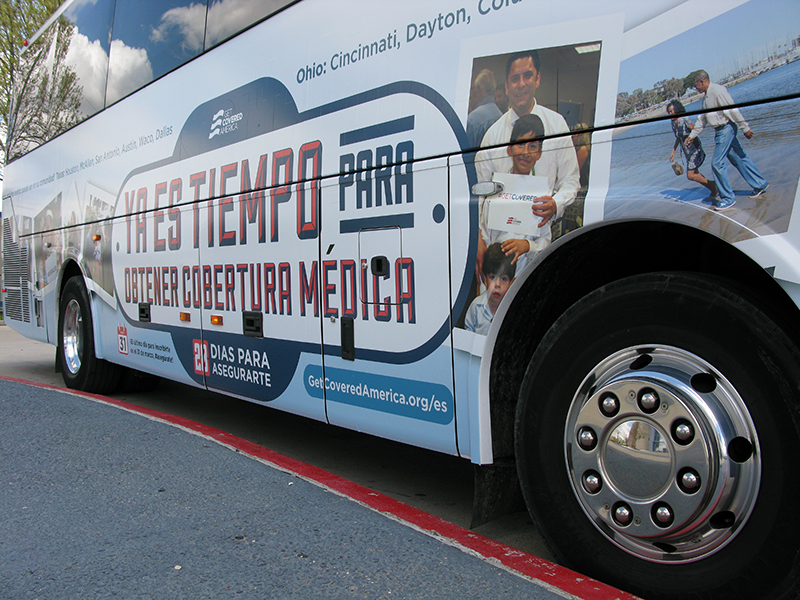 The "Countdown to Coverage" bus visited cities in Texas and Ohio to urge people to enroll in health plans before the March 31 deadline.
A big surge in the final six weeks pushed the total number of Texans signing up to 733,000. Texas was number three among states in signing people up for the health plans, after California and Florida.
Health policy analyst Elena Marks is with the Episcopal Health Foundation here in Houston.
"Considering the ambivalence among Texans for the Affordable Care Act, I am impressed with the high number."
Marks says a lot of community groups worked extremely hard to find uninsured Texans and tell them about the law — especially when Governor Rick Perry was criticizing it.
"I think it shows that deadlines work and it shows that the groups engaged in promoting enrollment got better at their jobs as time went on."
The Obama administration touted the final report, which tracked total enrollment from October through mid-April.
More than 8 million Americans enrolled — and most received a government subsidy to help pay for the private plans.
Julie Bataille is a spokeswoman with the U.S. Department of Health and Human Services. She spoke to reporters on a national conference call:
"We saw some of the largest surges in enrollment in Texas, Florida and Georgia in the final weeks of open enrollment. These results clearly demonstrate that Americans across the country want the affordable quality coverage offered through the marketplace."
For the first time, the government released some information on the race and ethnicity of people who signed up.
Providing that information was voluntary, but more than two-thirds of people did share their identity.
Of those who did, 63 percent were white, 17 percent black and almost 11 percent were Latino.
But in Texas, the Latino sign-up rate was triple the national rate. Texas led the way in signing up Latinos — 42 percent of the national total came from Texas.
Now that enrollment is over, the next thing to watch for is how people use their new insurance plans. If lots of sick people end up getting a lot of medical services, that could drive up insurance premiums in 2015.
The sign-up process starts all over again in November, for individuals seeking to buy their own insurance for 2015.

Health Insurance Marketplace: Summary Enrollment Report for Texas Click to enlarge