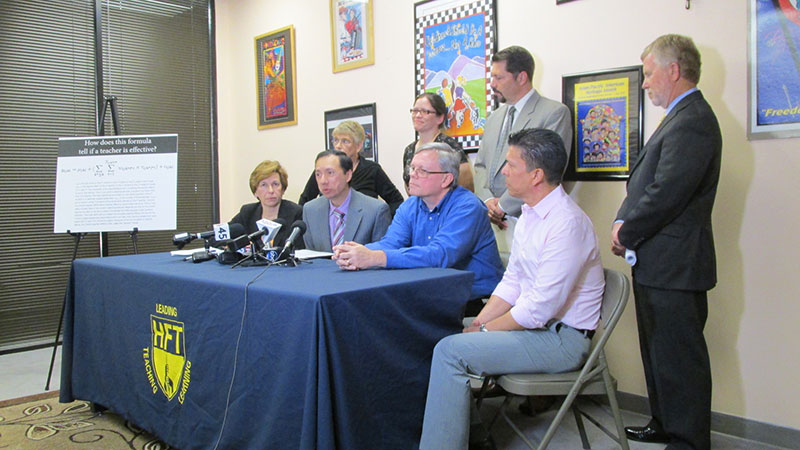 Sixth grade teacher Daniel Santos tells how he has been graded an "ineffective" teacher despite many awards. He is one of seven teachers filing a federal lawsuit against the Houston Independent School District for its evaluation system. Student test scores are part of the system.
At Jackson Middle School in east Houston, Daniel Santos believes he's a great teacher.
His peers have voted him campus teacher of the year. Former students tell him how inspiring he is.
"I am a great teacher also to the parents who 24 hours ago, last night, honored me yet again for going over and beyond."
But last year, Santos was rated "ineffective" by the Houston school district.
His students didn't perform as well as they were expected on their standardized tests.
Santos says that made him feel like a "bad teacher."
"It's dispiriting. It's demoralizing. It's insulting to be told that I am ineffective when clearly the evidence shows that I am. And it doesn't mesh with my classroom performance or the time and the effort that I devote to my students."
Santos is one of seven Houston teachers who are launching a legal battle against this evaluation system.
In education speak, it's called a "value-added model."
Basically, a complicated formula predicts how well students should perform on a standardized test. Then depending if students hit that mark or not, it calculates what value the teacher added.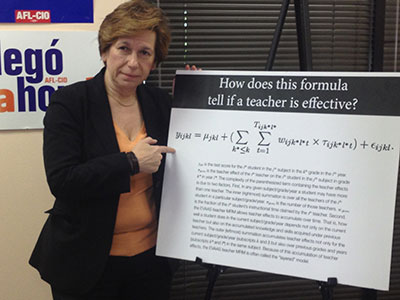 Randi Weingarten, president of the American Federation of Teachers, says statistical formulas that use student test scores to grade teachers end up putting more focus on testing and don't help teachers improve their teaching.
Gayle Fallon, president of the Houston Federation of Teachers, says that formula is flawed — and parts of it are kept secret by the company that created it.
"So basically what happens is the test scores are plugged into a black box where no teacher can either calculate or try and refute the number that comes out that tells if they are a good teacher."
The federal lawsuit says that system is not accurate or transparent, and it's violating teachers' due process rights.
The Houston Independent School District declined to comment on the lawsuit. But it says in a statement "the most important factor in student achievement is the teacher."
Like Houston, at least 30 states in the country use student test scores as part of a teacher's evaluation.
Sandi Jacobs is with the National Council on Teacher Quality in Washington, D.C., which promotes this kind of grading system. She says before teacher evaluations were lacking objective evidence like test scores.
"What teacher evaluation results were saying is, you know, that 99 percent of teachers across the country were just fine and the gaps we were seeing in student achievement were part of the push to bring some objective evidence."
But teachers here in Houston say the system is so unreliable, it's not objective.
Some say it's driving them from the classroom. One biology teacher who is a plaintiff in the lawsuit has already put in her resignation.
But the award-winning middle school teacher, Daniel Santos, says he is going to stay for his students.
With the new lawsuit, the state teachers union wants to keep this kind of teacher evaluation away from other schools in Texas. The state has to revamp how it grades teachers to keep its federal waiver under the No Child Left Behind Act.
Louis Malfaro with the Texas American Federation of Teachers threatened more lawsuits.
"We are prepared to take this fight to school districts across the state who think the best way to judge teachers is by a black-box analysis of student test scores."
The lawsuit in Houston also has support from the American Federation of Teachers. President Randi Weingarten says there are two main problems with grading teachers this way. One is that she thinks it's another way to focus on testing and punish teachers.
"And number two, which is even worse, is that they're just plain wrong! And that you see these irregularities, and in this suit for example, where people — who by every other measure are good teachers — are getting terrible scores on this algorithm."
Read the legal complaint here.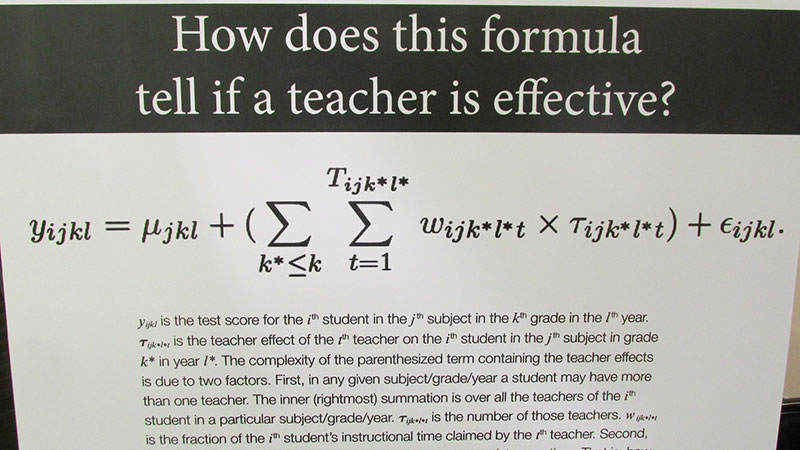 Like the Houston school district, at least 30 states in the country use test scores as part of a teacher's evaluation. Texas could join those other states because it has to revamp how teachers are graded to keep its federal waiver under the No Child Left Behind Act.