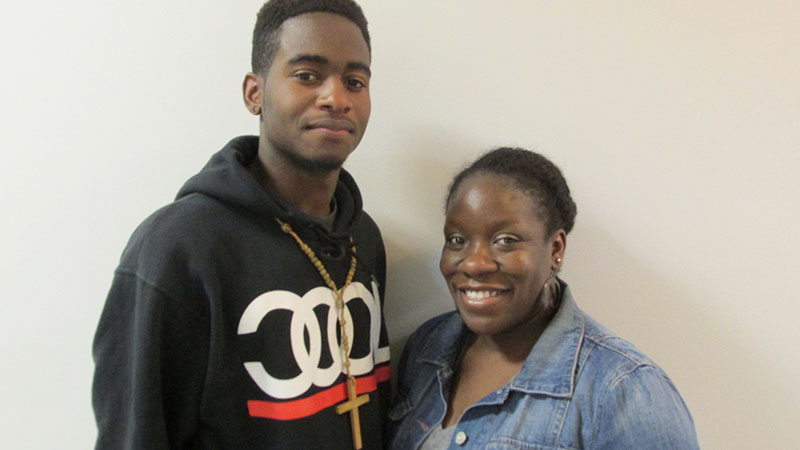 There's a new approach to discipline at a public high school in Spring Branch. Students and teachers sit in a circle and talk about the problem.
Teacher Udoro Gatewood and her student Jermaine Williams talk about one circle they both joined for the series "Inside the Classroom" with News 88.7 Education Reporter Laura Isensee.
TRANSCRIPT:
Jermaine Williams (JW): Can you, like, describe to me how you felt?
Udoro Gatewood (UG): During the time of the incident or the time of the circle?
JW: The incident.
UG: The incident — heated. Mostly because of the fact I feel like I have relationships with all of my students to where to lash out or curse out — I didn't really see where that was coming from. So, yeah, it was really at the point where I was saying, 'OK, this is a write-up, I'm done, This is it.' Just that whole disruption, seriously, made a huge dent in that class period. Nothing productive was even going on.
JW: And there was an odd feeling of being in the class knowing that that incident had happened.
UG: Until the option of having the circle came up and I was like, 'Oh, OK, I guess I can try this out.'
I was really concerned as far as, 'Ok, Is this going to be one of the slap-of-the-hand moments that students will get? And they say, 'Oh I just need to do a healing circle, I'm fine.' And that it's it.
JW: The circle, I think it's an opportunity for individuals to see where someone else is coming from or speak the truth and understand, 'This is where I messed up at,' or 'This is where this person is coming from.' Being in the circle with you and the other individuals helped all of us as a whole.
UG: I actually felt like you heard me. I felt like you were listening to what I was saying even though, yes, I'm there as a teacher, you know – A student did me wrong, oh no!
But no, I really felt like at that moment we were on the same page and the same playing field.
JW: I feel like our relationship has gotten better after the circle.
UG: I even told you, you know, in the circle — The class follows you, follows you to a T. If you say jump, silently they are all going to whisper, 'How high?' So that's what the class does. Honestly for me, I was like, man, if I can get you on my side, things will be cool.
I feel like many teachers feel this way — we may not say it — but I want to be the first one to probably say it. I feel like if I look at you in class, 'Jermaine, seriously stop.' You kind of do the nod thing, 'Alright, alright, I understand.' Whether you realize it or not, everyone else in the class follows that, without me even having to say their name.
JW: Ms. Gatewood, I'm, I guess honored, happy that you feel that way about me. I didn't know you felt that way about me in your class. It makes me feel like I can come to this class out of all eight classes that I'm in and stand out – show the class that it's not too late to do work, to make somebody else laugh, to be there for somebody else, you know.
I have a comedian-type. I like to make people laugh, mostly all the time. So, for that incident to happen and ruin things during sixth period, it was like, 'Man, I don't know how I'm going to go to your class because that happened.' And then when we had the circle, it was like, I'm ready for sixth period. I'm ready to go back, laugh, play around and get work done.
That was 11th grader Jermaine Williams and his teacher Udoro Gatewood. They're from the Academy of Choice in Spring Branch. From the News 88.7 Education Desk, I'm Laura Isensee.