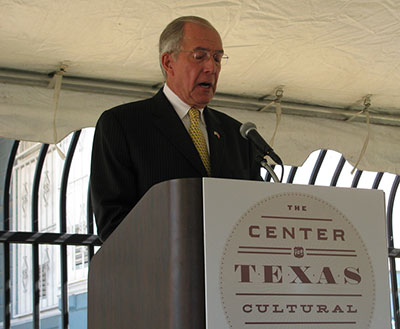 John Nau speaking at the unveiling of the New Center for Texas Cultural Heritage on October 4, 2012.
Efforts continue on an interactive exhibit that will tell the story of Houston and southeast Texas. The Nau Center for Texas Cultural Heritage will be located between the George R. Brown Convention Center and Minute Maid Park.
The center is named after John Nau, who began the fundraising effort two years ago, and who told an audience at the site what role it will play in telling Houston's story.
"It will be an educational and inspirational venue, where both visitors and residents will be invited to explore and experience the history and the culture that built and continue to define our Houston region."
He said that the project is on schedule.
"Obviously it was dictated by the Super Bowl. So, we know that we need to be open in the 4th quarter of 2016. We are in the process of planning the ground breaking, but we're on schedule once somebody created the crunch schedule for us."
Houston First donated the land for the Nau Center, which has nearly doubled in size and budget.
Ric Campo is chairman.
"It just shows that the corporate community supports the idea of education, and I love the 6th and 7th grade education part, because those are going to be leaders of the future. So we have to make sure that they understand where they came from, so that they know where to take us."
Union Pacific is helping raise the $75 million fundraising goal. Groundbreaking on the center is expected by the end of the summer.