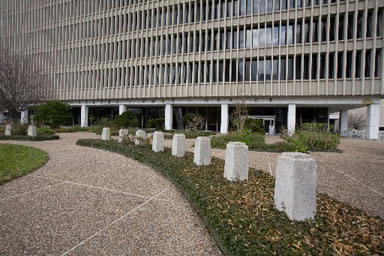 Houston Post Office, 401 Franklin – Downtown Houston
The proposed Justice Complex would replace the city's deteriorating HPD headquarters on Travis St., along with the municipal courts located just west of downtown on Riesner St. The original plan was to build the new complex on the current Riesner site. But city leaders now say there's another option at 401 Franklin, the site of the downtown post office.
City Finance Assitant Director Jennifer Olenick says they examined five alternate sites and the post office location was the only site that met the city's criteria.
"Due to this being really the only viable alternative, the city did submit a bid to the RFP that the post office put out."
And that's where things get sticky. That bid was not publicly announced because it's a competitive bid
against private companies. Several Houston Councilmembers at the briefing expressed anger that they
didn't know the city had placed a bid and they found out through private developers, including Councilmember Michael Kubosh.
"This elevates my concern that we don't have transparancy in government. I need to know, I'm a city councilman. All these councilmen need to know, not just the department heads or the people over committees, all of us need to be aware of it."
Councilmember Brad Bradford echoed those concerns.
"Blatantly put, I think it's unconscionable that the city would move forward on a deal such as this and not apprise councilmembers. Simply unconscionable."
For the administration's part, City Finance Director Kelly Dowe told councilmembers the bid isn't final until they approve it and the council retains control of which site the city chooses.
"You guys all have the ultimate call on this. This is about retaining flexibility for the city."
Dowe says building on the post office location could be cheaper than relocating employees while they build on the current Riesner location. He says if the city's bid is accepted by post office officials and approved
by city council, they would have three months to fully examine the site before they finalize the sale. But Bradford remains unconvinced.
"This continues to happen that decisions are made in camera, they're made in private, and then they're brought to this council and we're supposed to just rubber-stamp it and move forward. This councilmember isn't going to do that."
Whichever site is chosen, the city plans to submit a final proposal for the Justice Complex to city council by summer or fall of next year. The total cost of the complex is estimated at $600-800 million.