Bob Sanborn, president and CEO of Children at Risk, says top schools have certain things in common, including strong leadership, passionate teachers and extended school hours.
Students and principals are gathered in this high school cafeteria for a countdown to the best schools in Houston.
It's not a total surprise when Bob Sanborn with Children at Risk reaches the finale.
"And the best and most fantastic school in the Houston area, our number one school, DeBakey High School for Health Professions."
That's No. 1 on a list of 157 high schools from different school districts like Houston, Fort Bend and Cypress Fairbanks. It's the sixth time DeBakey takes the top spot since 2006.
All the schools get graded on how well their students perform on standardized tests, how much students are improving and also how low income students are doing.
DeBakey Principal Agnes Perry says she let out a deep breath when she found out her campus came out on top.
"Because I was hoping for it — but I didn't want to admit to it until after I'd seen it in print. I'm ecstatic."
Students here are also excited. They're wearing something special for the big announcement. Jessica Rollinson and Joy Egbo are both juniors.
"We're wearing our scrubs and Joy has her lab coat on and we have to iron them and press them and usually we have to wear white shoes but I kind of skipped on that and so did some other students."
Students have to apply to attend this magnet school. In fact more than 1,000 students typically vie for 250 seats in the freshman class. Joy says that competition is motivating.
"It makes you feel good. Because you applied and you got in and then there're others who they applied and they didn't get in. So it makes you feel like you're, you're up there."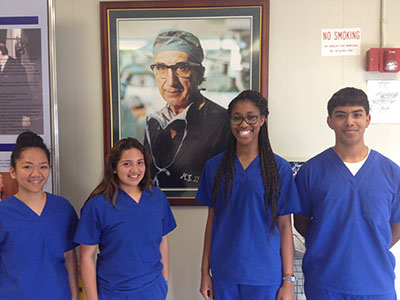 Students wear scrubs to school at DeBakey High School for Health Professions. The magnet school in the Houston Independent School District ranked No. 1 for the sixth time.
Schools that are up there in the rankings have certain things in common. Again Bob Sanborn with Children at Risk.
"We always see schools that have great principals. We see schools with the teachers that have this missionary zeal. But the other thing that you'll notice in top 10 schools, whether it's elementary, middle or high school, is that they have figured out how to have a longer school day."
Here at DeBakey, students can get extra one-on-one tutoring before or after school.
But there's another trend among the top schools in Houston. Almost all of them are some of kind of magnet or school of choice.
Only one is a traditional large high school. That's Clements High in Sugarland. David Yaffie is the principal there.
"Every student who lives in our attendance zone comes through our doors. So the comprehensive schools don't have applications and don't cherry pick, so to speak, their students so there are definitely additional challenges."
Here's a list of the top 10 high schools in Greater Houston, according to Children at Risk's 2014 rankings.
DeBakey High for Health Professions, Houston ISD
High School for Performing & Visual Arts, Houston ISD
Kerr High, Alief ISD
Carnegie Vanguard High, Houston ISD
Clear Horizons Early College High, Clear Creek ISD
Eastwood Academy, Houston ISD
Challenge Early College High, Houston ISD
Westchester Academy, Spring Branch ISD
Harmony Science Academy, Harmony Charter Schools
Clements High, Fort Bend ISD