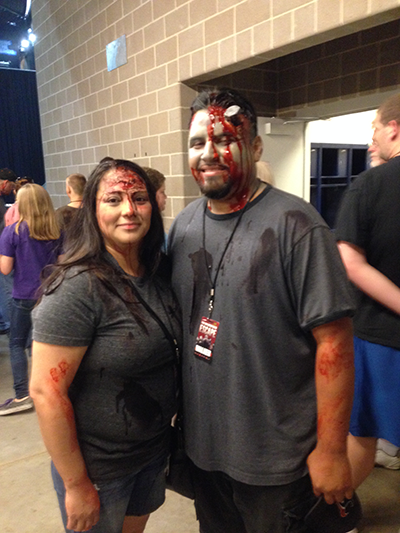 Two participants made up as "walkers" for The Walking Dead Escape at Reliant Stadium, Saturday, April 26.
Houston Zombie Walk organizes several events throughout the year, building up to the walk itself, just before Halloween. Funds raised by the events go to support Houston Children's Charity, the Houston Humane Society, and Dove Key Ranch Wildlife Rehabilitation.
Darren Tompkins, founder of Houston Zombie Walk, is a fourth-generation charity organizer. His father introduced him to horror films, including George Romero's Night of the Living Dead. This past Saturday, Tompkins and his fellow Zombie Walk staffers were at Reliant Stadium, volunteering at The Walking Dead Escape, a live event based on the popular TV and graphic novel series.
"You always look for the pop culture, what's going to bring people out, and what's going to raise awareness for the things that we do. Zombies are wicked hot right now."
"Why do you think that is?"
"I think Romero had it back in the '60s. He said, you know, you look at zombies, and yeah, they're bloody, they're scary, but really, they're your neighbors. I mean, they're people you can see in the Houston tunnel system that are kind of shambling along for work. And they also represent a lot of virus and disease, things that people are very scared of nowadays."
Halfway to Halloween kicks off at 4 p.m. on Saturday, May 3. The event features a pub crawl, a costume contest, face painting, and a silent auction.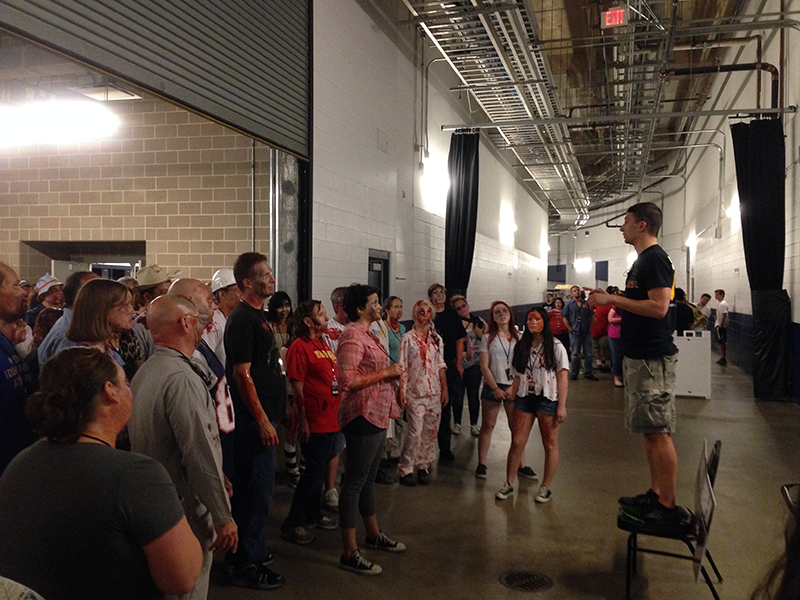 A "special ops" staffer for The Walking Dead Escape giving a final briefing to walkers before the start of the event.