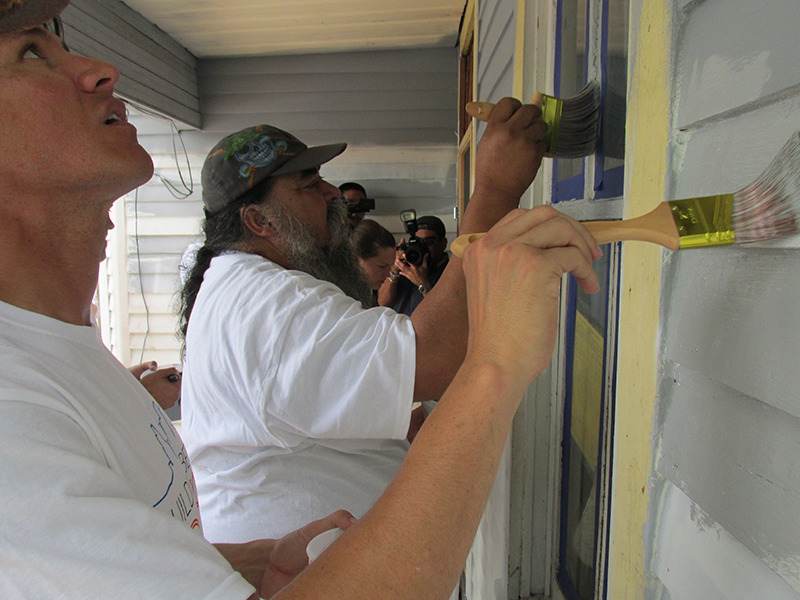 Houston Dash managing director and former Houston Dynamo player Brian Ching helps paint the Rincon family's house.
About 50 volunteers — all employees of BBVA Compass bank and players of Houston's newest women's soccer team, the Dash — worked to renovate the house of the Rincon family on Delano Street in the East End on Wednesday. It was part of the Building a Better Houston initiative by the bank and Dynamo Charities.
It's no coincidence that the BBVA Compass Stadium is just a couple of blocks away. That's where the Houston Dynamo and the Dash play and it's part of the revitalization of an area that not too long ago has mostly been known for its empty warehouses.
Chris Canetti, president of both the Dash and the Dynamo, said one of the reasons why the East End was chosen as the location for the stadium is that it would contribute to the area's redevelopment.
"We knew there was sort of this barrier to entry here on the East End," he said. "And we thought that by building a stadium and getting several thousand people to cross that barrier and see what the East End is all about would be very helpful, and it's worked."
Karen Dixon with BBVA Compass said her company has community initiatives all over the city but its main focus is on the East End for a reason.
"It's primarily because we want to build a better community in the areas where we have a presence," Dixon said. "And our stadium is something that we feel like is valuable to the East End and we want to help revitalize other parts of the East End, not just the area around the stadium."
Patrick Ezzell with the Greater East End Management District said the Dynamo have had a very positive impact on the community since the stadium was built.
"And I think it's brought a lot of attention to the neighborhood, too. So on the other hand, you know, people are noticing the East End more partly because of the Dynamo, which is actually in East Downtown or EaDo, but a lot of people just think of it as the East End."
And conversely, Ezzell said, the soccer teams are benefitting from the people who live in the East End.
"A lot of the population – we're about 84 percent Hispanic – they love soccer," Ezzell said. "And so I think that all helps."
The part of the East End closer to downtown has seen a lot of development in the last couple of years. Besides the construction of the soccer stadium, more and more townhomes are going up, Metro has been building its East End Light Rail line and a part of Navigation Boulevard has been beautified.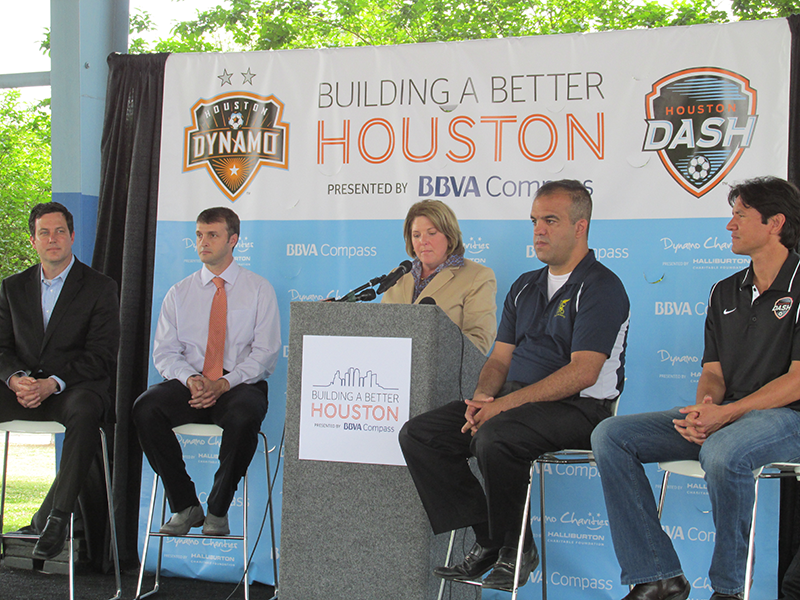 Houston Dash and BBVA Compass volunteers help renovate the house of a low-income family in the East End.