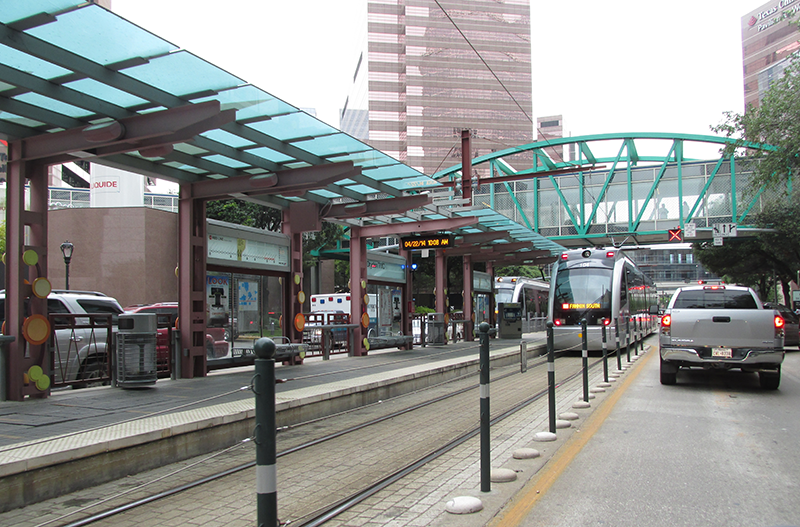 Busy Fannin Street carries a large volume of traffic into the Texas Medical Center.
Officials want to hear from the public on what needs to be done to relieve traffic congestion in the Texas Medical Center.
So just how busy is it? We met up with Cara Saldivar as she waited to hop a light rail train at the Medical Center's transit hub.
Saldivar has an office job just down the street. She parks her car at one of the big commuter lots and then takes the train the rest of the way.
"It works really well. It's really easy and there's less headache of trying to park, and you don't have to pay every time you stop somewhere."
And by staying off busy Fannin Street, Saldivar avoids the long lines of cars that wait at red lights, and then slowly circle for a place to park.
"It's probably very confusing if you've never been here before. There's a lot of buildings, and it's probably really hard to tell which one is the one you want to get to, and where to park for the building that you want."
The Texas Medical Center employs about 100,000 people, and with hospitals planning expansions in a growing health care market, the number of people converging on the area is only expected to grow.
So what needs to be done to move everyone more efficiently?
The City of Houston is trying to figure that out through its Texas Medical Center Transportation Study. The study is funded in part with a grant from the Federal Transit Administration. It looks at data from those crowded intersections and parking lots, along with transit ridership numbers.
Alvin Wright with Houston's Public Works Department says they're looking for ways for people to get around with a lot less frustration.
Wright says they're considering things like digital signage, to let drivers know when parking lots are full so they won't have to keep driving around the block. They're also looking at making things safer for people who aren't in cars.
"Many of the folks who work in the area have opted for alternative transportation such as cycling. There's a lot of physical activity and running and walking in the area too. But I think mass transit is the key. It's getting folks used to that, and we're seeing it already."
The city is holding a public meeting Thursday evening to get input on the plan. That meeting starts at 6:00 p.m. at DeBakey High School. Officials hope to put the plan in its final form next month.