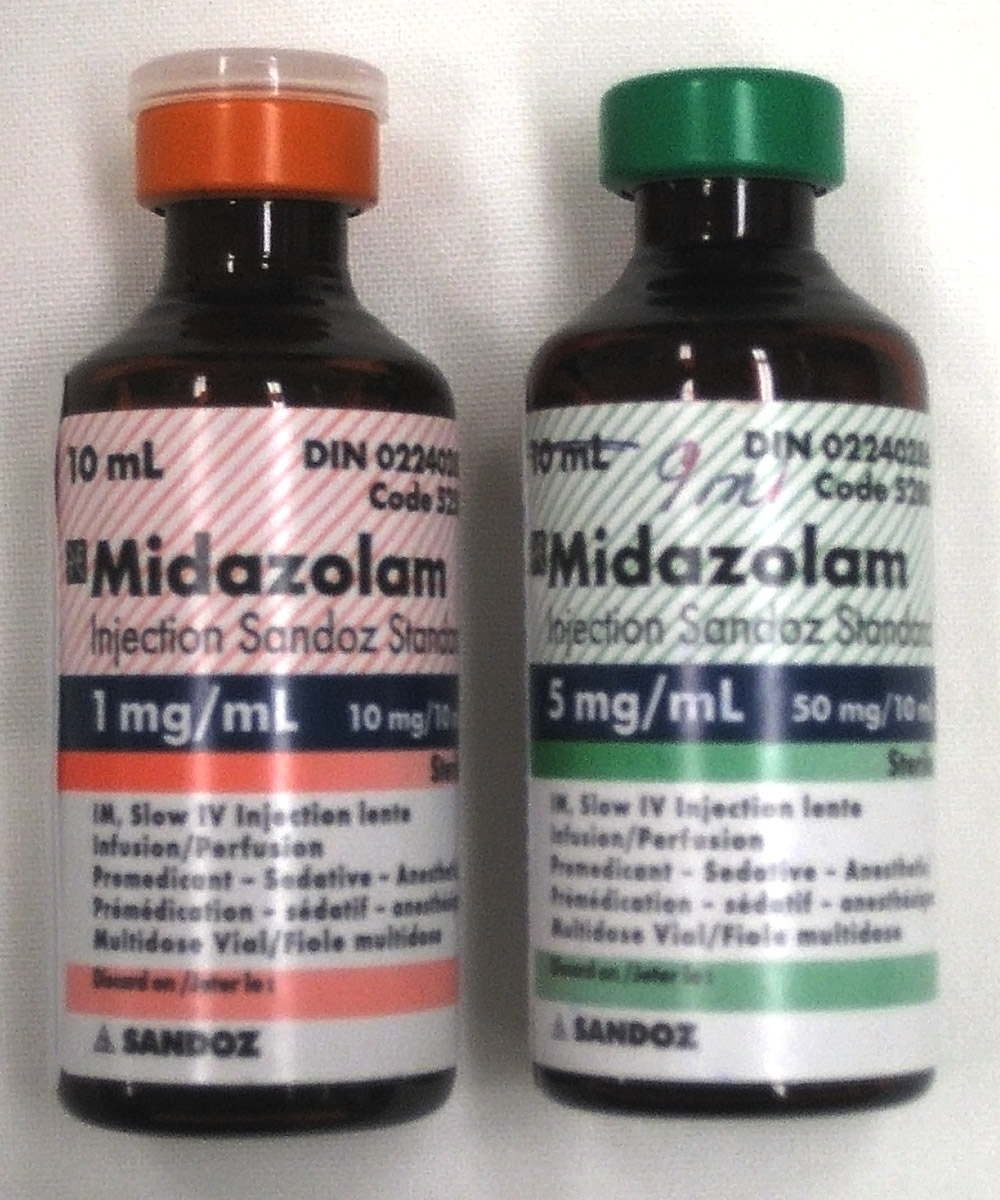 James Heilman, MD, contributed this image of Midazolam to Wikipedia
Carlos Villarreal is a 48-year-old self-employed IT consultant who lives in Meyerland. Since the late 1980s, he has tried medication after medication for his chronic, clinical depression.
"At some point, you just keep upping the dose. And you reach the top-most limit, and there's really nothing else to do."
A couple of years ago, he was scanning through the ads in the back of the Houston Press, when he came across a notice from the Baylor College of Medicine looking for research volunteers.
"Well, I was so desperate I thought, 'what else could I lose?' I was really at the lowest point in my life. So, I said, 'I'll give it a try.'"
A battery of psychiatric exams showed Villarreal scored high on the scale of treatment-resistant depression.
"And when you can't get out of bed, it's not because your legs aren't working. It's because something is not connecting."
Baylor chose Villarreal and 71 other people a double-blind study on whether ketamine could relieve depression in a way other medications couldn't. Two-thirds of the study group was given ketamine. The others received a different anesthetic that produces a similar high. In December of 2012, Villarreal received a 40-minute infusion what he later learned was ketamine. Doctors gave him a dose large enough to induce feelings of euphoria, but only a fraction of what's typically needed to put a person or large animal down for surgery.
"You get that warm, fuzzy feeling coming up your arm. And then, it hits. I was, probably, very giddy. In my case, I wasn't sleepy. I was quite lucid, actually."
Villarreal says after the infusion, he felt the kind of hope and self-confidence he hadn't known for decades.
"It was like turning the lights on in a darkened room, and then you could see the contents of the room, and think, 'Wow, this is what I've been missing.'"
Villarreal says the strongest effects wore off after a couple of days. Ketamine didn't cure his depression, but he says it got him to a place where conventional anti-depressants and talk therapy became more effective.
So how, exactly, does ketamine work?
"That's a hot area of research right now. And, bottom line is we're not entirely clear," says Dr. Sanjay Mathew with Baylor College of Medicine.
Dr. Mathew co-wrote the study on ketamine and depression. He says studies on animals have shown that ketamine blocks the brain chemical glutamate from one kind of receptor, and sends it to another kind of receptor — a receptor that has been linked to thinking and mood.
"So we think depression may be resulting from certain parts of the brain being off-line, or disconnected from other areas. The hypothesis could be this is re-paving or re-shaping some of the aberrant or abnormal connections."
As research into ketamine and depression continues, Dr. Mathew warns against self-medication with ketamine bought off the street. That could be fatal. The full study can be found in the journal Depression and Anxiety.