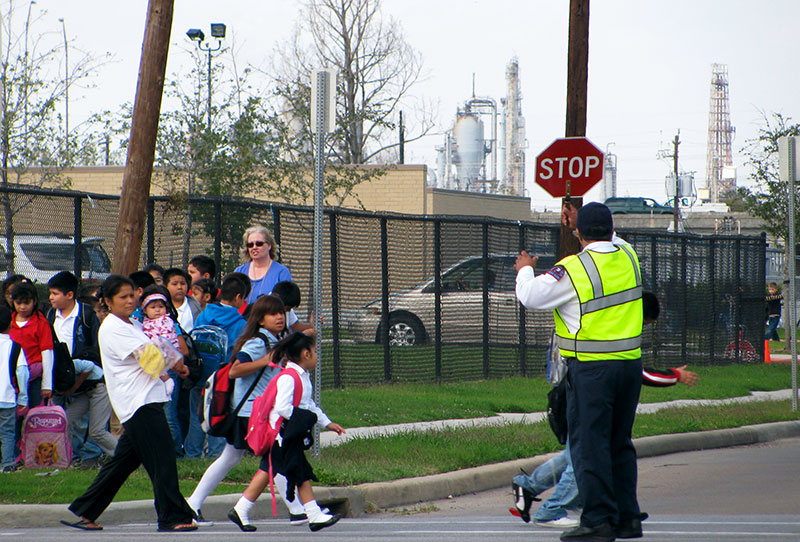 Kids crossing the street at Kruse Elementary in Pasadena, Texas. (Photo by: Dave Fehling)
Ninety-five schools in the Houston area are within a mile of one or more facilities that work with dangerous chemicals.
That's according to an analysis by the Washington, D.C.-based Center for Effective Government.
Sara Smith, program director at the advocacy organization Texas Public Interest Research Group, or TexPIRG, said there are 33 facilities in Texas that each potentially threatens more than a million people, and 20 of those are in the greater Houston area.
"This includes the South Houston Wastewater Treatment Plant," Smith said. "And that plant in particular uses sulfur-dioxide and chlorine gas to treat wastewater. And that puts over 140,000 people within a three-mile radius at harm."
Not surprisingly, an online interactive map shows the majority of toxic chemical facilities are east of Houston, in the Pasadena-La Porte-Baytown area. They are also more likely to be in low-income and minority communities.
"The communities immediately surrounding these facilities have a higher percentage of Hispanic or African American residents than the state and national average," Smith said. "So generally the per-capita income is significantly lower."
The analysis defines risky facilities as those that report to the EPA's Risk Management Program.
TexPIRG is part of a coalition of more than 100 advocacy groups that call for stricter standards regarding the disclosure of chemical information, better reporting to oversight agencies and stronger emergency response plans. They also advocate for a switch to safer chemicals whenever possible.