One_Bin_For_All_Infographic.pdf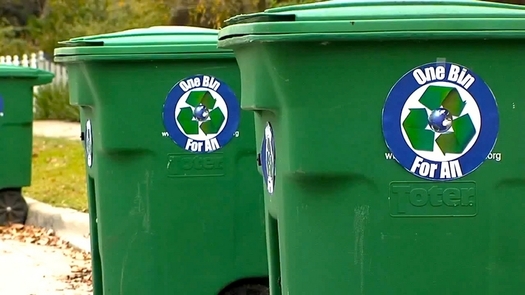 The City of Houston is moving forward with a plan to allow residents to throw all trash and recycling materials into one bin. The garbage and recyclables would later be sorted at a processing plant. The One Bin for All program is intended to reduce the amount of waste going into landfills.
The city issued a request for proposals from six companies interested in operating the program.
Laura Spanjian is the City of Houston's Sustainability Director. She says right now the city diverts about 19 percent of total waste from landfills.
"So with this new concept and this new facility, we're going to be able to divert 55 to 60 percent of recycled material and food waste in our first year and we hope to get up to 75 percent diversion in our second year."
Houston Mayor Annise Parker has named an advisory committee of local experts to consult on the development of One Bin for All. Among the experts is Jim Blackburn, an environmental lawyer and professor at Rice University.
"It's a very exciting initiative the city has done that involves innovative technology, it's somewhat controversial and if it is successful I think it will be a huge step forward in recycling for the United States."
Critics of the program say throwing all materials into one bin will end up contaminating recyclable products like paper and mixing hazardous waste with items that could have otherwise been composted.
City leaders admit some recyclables will be contaminated, but they say the overall rate of recycling will still go up significantly.