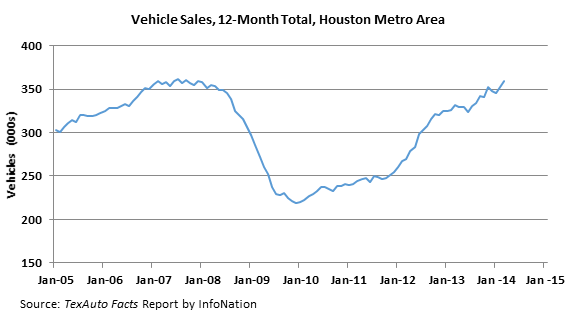 Graph prepared by Greater Houston Partnership.
March vehicle sales totaled close to 38,000 cars, trucks and SUVs – up 14 percent compared to February. Combined sales for the first three months of the year were 13 percent higher than those of the first quarter of 2013.
"The first quarter of this year is the best quarter of any quarter in the last ten years."
Steve McDowell is president of Sugar Land-based InfoNation and publisher of TexAuto Facts. He credits the strong sales to a combination of low interest rates, healthy job growth, and aggressive pricing.
"General Motors, Ford, and Chrysler all have been extremely aggressive in pricing, particularly, their light trucks. We've seen more manufacturer incentives than we have for some time, and I think that's getting some people to move in and decide this is the time to buy a car."
Nationwide vehicle sales for the first quarter totaled roughly 3.7 million, up 1.4 percent over the same period last year.