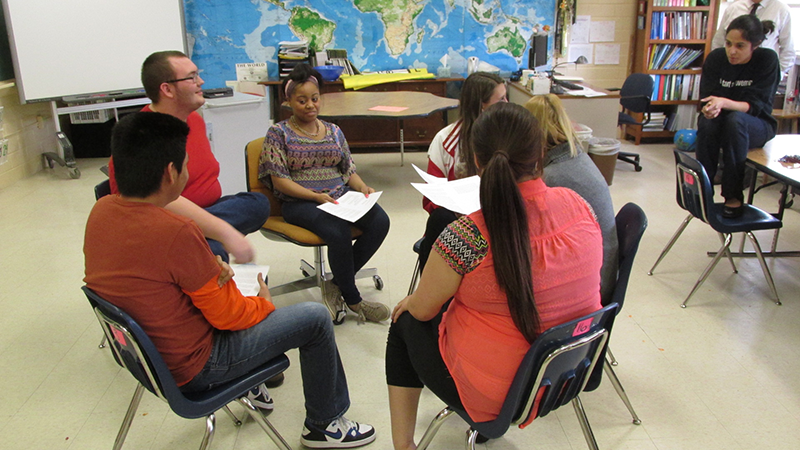 Students at the Academy of Choice act out a hypothetical situation to learn how to resolve conflict with a healing circle. In this leadership class, they learn how to lead circles and resolve conflict by talking and getting to the root of the problem. Students have led circles at their own campus and other schools in Spring Branch.
About ten students put their book bags on a table and gather in a circle at the Academy of Choice in Spring Branch.
It's a small public high school in northwest Houston.
Students in this leadership class are learning how to resolve conflicts on campus.
They act out a hypothetical situation.
"My name is Brian and I brought a switchblade to school because people were were messing with me."
"I believe this whole thing is lunatic. My son wouldn't harm anyone. He helps with me around the house and he takes care of his siblings. I will find justice for my son."
Others in the circle talk one by one.
They take turns by passing a red, heart-shaped stone.
This is called a "healing circle."
It's a new tool for handling discipline at this academy.
Since the fall, there have been at least 30 circles here.
Take Brooke Cherry. She's 17 years old. She got into an argument with her ex-boyfriend in the hallway.
"And we assaulted each other and they had us do a circle. I honestly didn't think it was going to get us anywhere. Like, I just wanted him to leave me alone."
Brooke says talking was rocky at first. But in the end, her ex-boyfriend did just that – leave her alone.
Students and teachers here have used circles to deal with other problems, like heading off gang fights before they happen. Or making nasty rumors disappear.
Anita Wadhwa is the leadership teacher. She's making it her mission to bring this technique to schools.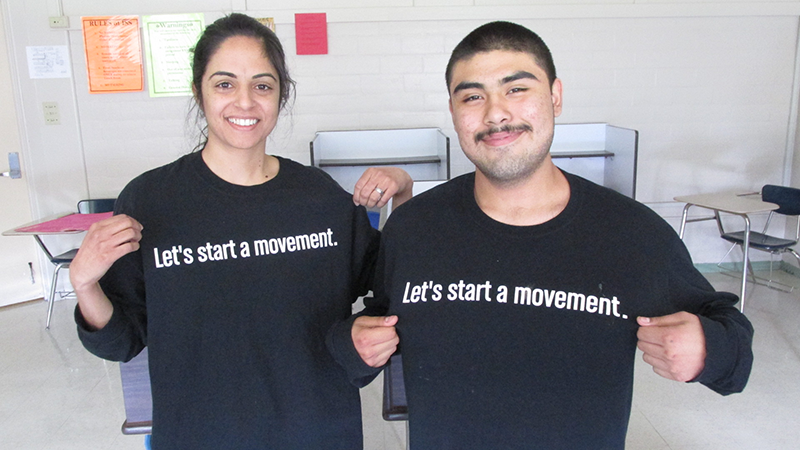 At the Academy of Choice in Spring Branch, teacher Anita Wadhwa and junior Xavier Chavez, 17, have been holding"healing circles" to deal with student misbehavior. The tool is part of a larger philosophy called restorative justice.
She says the circle is part of a larger movement called restorative justice.
"Though it sounds silly passing a rock and sitting in a circle, conflicts start with people exchanging words. So why can't they heal with people exchanging words? It's a pretty fairly simple concept. That's because it's been around for centuries."
The concept's been used in law enforcement.
But now students and teachers come together. They agree on a plan to repair the harm. That might be a simple apology.
"That's what restorative justice is. It's about repairing. It's about building the relationship, repairing it, strengthening it and moving on."
Wadhwa became interested in this kind of discipline after a former student ended up in jail.
Studies show suspending students doesn't improve their behavior or their academics. What's more, minority students get suspended more often than others.
That's why other districts are turning to restorative justice.
"I think it's really spreading and it's really popular with both students and teachers."
That's James Eichner with the Advancement Project. It's a civil rights group promoting restorative practices in education.
He says they're working with schools in Denver, Buffalo and Virginia.
In Denver, there are fewer suspensions and better attendance.
"Not only does it do the tangible result of reforming discipline — and meaning that kids get suspended or expelled less — but it creates the intangible better bond between students and teachers."
Here in Houston both, administrators and students prefer the talking circles to the old way of dealing with discipline.
Vice Principal Joel Smith says now they can get to the root of a problem.
"We found that you can actually go back and unwind it all and get to the bottom of where it started and so many times it turns out to be something so very innocuous and once you get to that everything changes."
He says relationships change. Girls who fight become friends again. Rival gang members end up shaking hands.
Students themselves like having a voice.
Xavier Chavez, 17, has been in circles as a participant and a leader.
"Let's say I get in trouble and they suspend me and I have no say on it. I'm going to be very angry and it's going to make me want to do something. That's why I feel like a healing circle work because it lets you get out your emotions and everything out."
Xavier says it's changed his life.
He's moving away from gang activity and he wants to spread restorative justice to more students.
There will be a conference Saturday at the University of Houston to train more people in restorative practices. For more information, visit here.