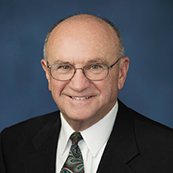 Houston Community College Trustee Dave Wilson, District 2 [HCC image]
Houston Community College Trustee Dave Wilson is defending his residency, despite being sued by Harris County Attorney Vince Ryan.
At issue is the county's contention that Wilson was not a resident of the district when he was elected in November. Wilson unseated Houston Community College Chairman Bruce Austin in the November 5th election by 26 votes.
Harris County Attorney Vince Ryan sued Wilson, alleging the small business owner was not a resident of District 2 when he was elected to the post last November.
Wilson thinks the suit is nothing more than sour grapes.
"The county had a private investigator following me, and that private investigator confirmed that I live in the district. So, it's just a facade and a cover-up for the fact that I won the election, and the person that they had financed and backed lost and I won, and they're doing everything they can to keep me from staying in that seat."
Robert Soard is first assistant county attorney.
"It is true that on 2 or 3 different occasions, private investigators checked out some of the claims that Mr. Wilson was making. It is not true that his family is being harassed. It is true that Mr. Wilson has inserted his family into this case by designating that address as their address for voter registration."
Wilson contends that he does live in an 1,100 square foot apartment that's located upstairs at his office on W. 34th Street, in the college system's District 2.
Soard says it will be up to a judge and jury to determine whether the industrial warehouse is actually Wilson's residence.
"The people are entitled to have their representatives live in the area that they claim to live."
The case is set to go to trial in July.