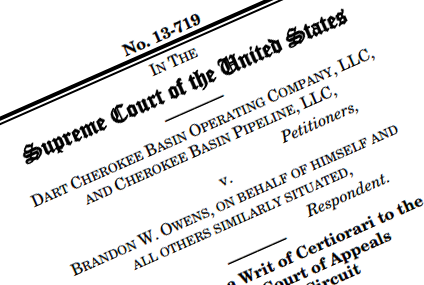 The Supreme Court will consider the requirements for transferring class-action lawsuits from state courts to federal ones. Federal law allows such transfers in cases involving more than $5 million.
A group of royalty owners sued Michigan-based Dart Cherokee Basin Operating Company in Kansas state court, alleging underpayment of royalties on oil and gas wells. The plaintiffs did not seek a specific damage amount, but Dart claimed it would far exceed $5 million.
Jerry Young is an attorney with Houston law firm Coats Rose.
"One of probably the biggest procedural benefits to the energy companies will just be the ways that they can seek to dismiss claims, or even limit them. In federal court, with initial pleadings that you can file in the forms of motions to dismiss, which you don't have in state courts, you can have a quicker resolution to the claim by dismissal, than you can in state court."
A federal judge rejected the transfer request because Dart did not offer evidentiary support. The company says the law does not require detailed evidence.