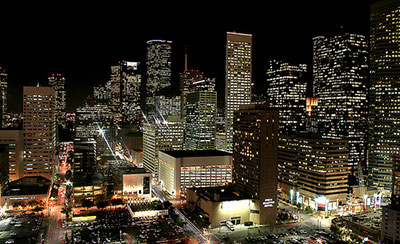 The figures look good for 2013 — the bureau achieved a hundred percent of its goals in booking domestic meetings, with a direct economic impact of $345 million. Well over a half-million definite rooms nights are booked for upcoming conventions — that's one yardstick for measuring success. The bureau enjoyed 198 percent of its goals in booking international meetings, with a direct economic impact of $77 million. There were 203 film and commercial projects. Greg Ortale is president and CEO of the Greater Houston Convention and Visitors Bureau.
"What it is, is we have a fairly robust database to find opportunities. We're looking both for groups that have not made a decision on specific years and matching them up with our annual calendar to see if there's a fit, and then we go and proceed after them."
Ortale says the ten-year-long "My Houston" campaign has helped solidify Houston's image.
"Where we got Houston-born — and many living, continuing to live here — celebrities to do endorsements, whether in print or video, about living here. We had well over 40 celebrities, all the way from Bush-41 to ZZ Top."
"You know, they talked about what made Houston special to them. We did not have any editorial control over it — that was a condition of the deal. And we didn't spend a nickel for any of those celebrities."
To get a group to hold their convention in Houston, there are several base requirements.
"You have to have the facility. We're blessed that we have two — we have George R. Brown Convention Center and we also have Reliant Park, soon to be NRG Park. Secondly, you need to have the accomodations. Third, and very important, is transportation — not so much getting around town, although that is a factor, but also getting to it, to airports. And finally, attractions. After their meetings are over, and where else they can they go or if they want to visit some of our attractions."
Getting clients to hold a convention in Houston is half the battle. They must have a good experience while here.
"Well, there's no question about that, Ed, I'm glad you said that, because our true measure of success is the ability to get them to come back the second time. That's really what does the trick."
Future conventions are mapped out sometimes years in advance. Looking down the road a bit, Super Bowl 51 will happen in Houston in 2017.