The top spellers from 42 Texas counties will face off Saturday in the state's largest spelling bee.
The event will be broadcast on live television here in Houston and will also be streamed online.
Students have to face some stiff competition to compete in the Houston spelling bee.
The Houston event ranks as the third largest local bee in the entire country.
Connie Hill is with Houston Public Media. She's the spelling bee coordinator and producer.
"We start at the Louisiana border and go all the way to Austin and then we go from the Gulf up to Nacogdoches and Lufkin area. They start in the fall preparing, they have school bees, so a 1,060 school bees occur. Each school makes a champion. They go to regionals in February, and from that, we have the best 55."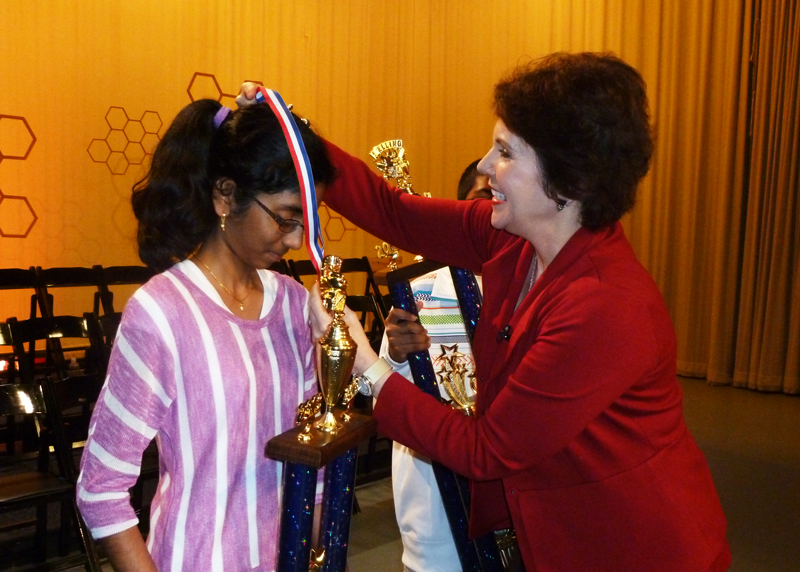 2013 co-champion Shobha Dasari and Houston Public Media Executive Director Lisa Trapani Shumate.
Some of those top spellers are returning this year, like Shobha Dasari, 13. She was Houston's co-champion last year and finished 19th in the country.
"Basically I go through the dictionary and I get random words and I just study those and sometimes I read by categories, like, I read bird words or stuff like that."
Students also have to contend with the high pressure of the academic competition.
There are judges and other competitors watching the spellers.
They're also on live television.
"It simulates of what they will expect at the national bee, so it's very, it's a lot of pressure for the kids, but it does prepare them very well for the National Bee," says Connie Hill.
Houston will send its two best spellers to the 2014 Scripps National Spelling Bee in Washington, D.C. later in May.