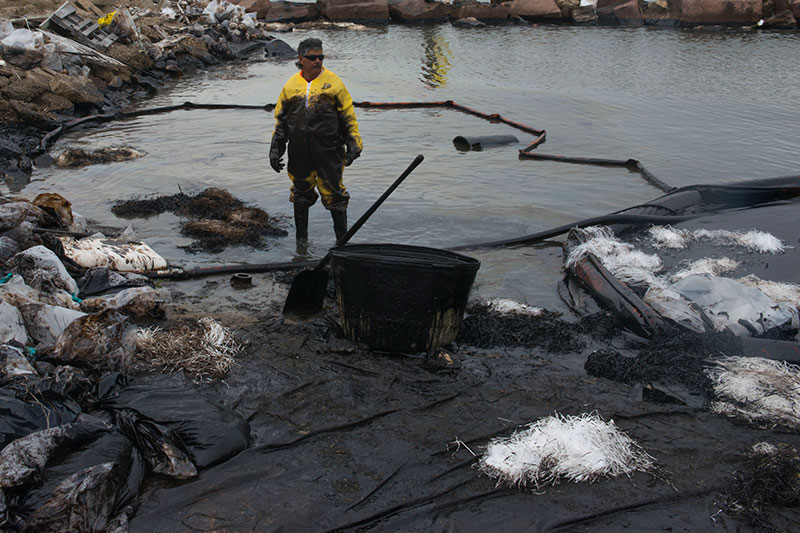 Clean-up crews fill bags with oil-absorbent material in Galveston, Texas, March 26, 2014. These crews are diligently working to stay ahead of incoming inclement weather that could potentially stall response efforts. [U.S. Coast Guard/Petty Officer 2nd Stephen Lehmann]
Cleanup operations are proceeding at a much faster pace because of the changing weather.
Lieutenant Sam Danus is with the Coast Guard.
"Although we cannot control the weather, we can obviously adjust our tactics and strategies in order to facilitate a good effective response."
Much more oil spilled in Port Arthur four years ago, but that was confined to that ship channel. Last weekend's accident occurred in open water.
Bob Stokes with the Galveston Bay Foundation says remnants of the heavy oil is good and bad.
"It has the propensity to kind of get on top of things and suffocate them, but on the brighter side, the thicker oil like this are not as acutely toxic as some of the lighter crudes. So they've less potential long term effect, but that doesn't mean we discount the long term affects at all."
Doug Mathes, emergency management coordinator with Matagorda County, says the changing weather could impact any effects to habitat.
"We're looking at about a 1 and a half to 2 mile wide, 15 mile long massive oil that is probably going to be broken up by this change in the weather. And with that happening, we are in a preventive mode of having all that come into our bays."
He says booms are in place in jetties at the mouth of the Colorado River that should stop the oil from entering the bays.
"Don't mind if it comes on the beaches because we can pick that up. We just don't want it in the bays and estuaries."
The Coast Guard says response to the oil spill will continue until it is recovered from the waterways.