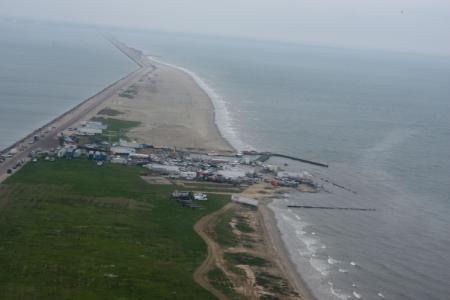 A arial photograph of the staging area for oil spill response operations occurring at the Texas City Dike, March 23, 2013. The efforts are the result of a collision between the bulk carrier Summer Wind and the Kirby Barge 27706, which occurred Saturday, in the Houston Ship Channel. (U.S Coast Guard photo by Petty Officer 3rd Class Manda M. Emery)
The accident took place in a region known as the "Texas Y" — a split at which inbound ships travel either straight across Galveston Bay toward the Port of Houston or at an angle into the Port of Texas City. It's one of the busiest intersections in the nation for marine traffic.
Bill Diehl is a retired Coast Guard captain and president of the Greater Houston Port Bureau. He says the shutdown of the Houston Ship Channel won't have much effect on local business, provided the channel is reopened soon.
"If they can't open it within the next couple of days, then those ships will be rerouted somewhere else, and then you start to feel the economic impact. So, the containers aren't offloaded or the tankers go to another facility to offload, then that business is directed somewhere else, and then that will be felt. Otherwise, what happens is it just backs up, and then we get real busy for a few days until it works through the system."
Roughly eighty vessels are in the queue either to leave or enter the channel.