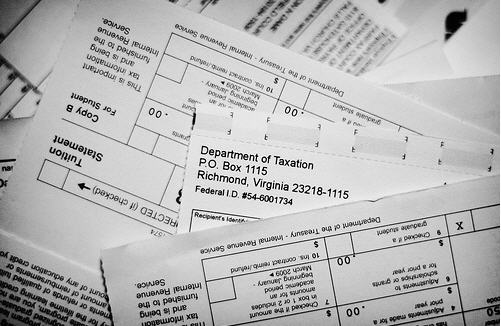 With just a little more than three weeks left until the federal tax return filing deadline, the Internal Revenue Service is warning people not to fall victim to the latest tax scams.
Authorities say phone scammers posing as IRS employees are targeting people across the country.
Lea Crusberg with the IRS office in Houston says the scammers seem to have a particular focus on recent immigrants:
"They will tell the taxpayer, 'You owe us money, send a pre-loaded debit card, or wire transfer, or else we're going to deport you or have you arrested.'"
Crusberg says scammers are also phishing for victims with bogus e-mail messages:
"They will try and use the IRS logo and make it appear legitimate. The problem with the e-mails is — first of all, we're not going to e-mail you asking you for personal financial information. We're also not going to call you about that. If you're going to hear from the IRS, first, that you have a tax problem, it's going to be the old-fashioned way — through the mail."
Crusberg says people who receive e-mails from people claiming to be from the IRS should not open those messages, because they probably contain malware. Instead, recipients should forward those messages to phishing@irs.gov.
There are two different ways to report phone scams. People who already know or think they might owe taxes should call 800.829.1040. People who are certain that they don't owe taxes, and receive a call from someone claiming that they owe should call the Treasury Inspector General for Tax Administration at 800.366.4484.