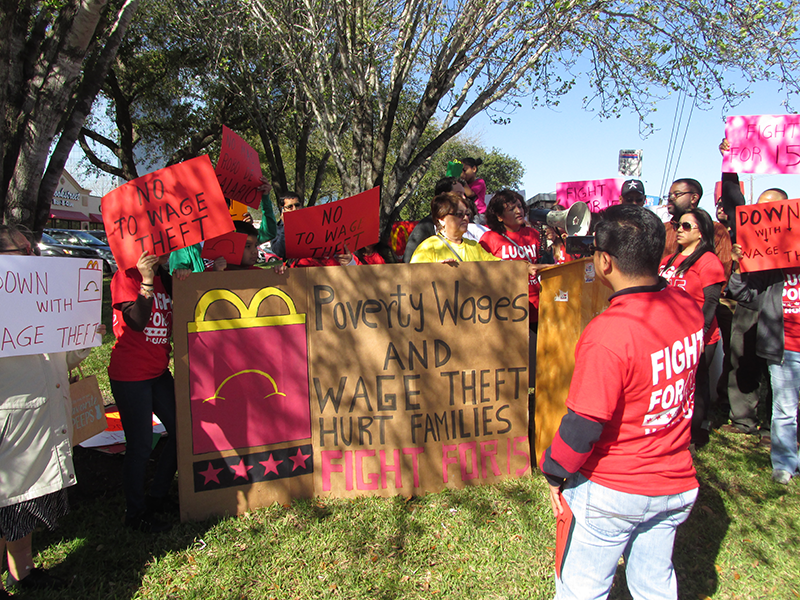 Fast food workers protest in front of a McDonald's on Westheimer near Beltway 8 in west Houston.
Fast food workers protesting at a west Houston McDonald's claim the fast-food giant is systematically stealing their pay. They also say they're struggling to survive with limited hours at minimum wage.
McDonald's employee Tiara Jackson was there with her four-year-old daughter. She says it's nearly impossible to get by on $7.25 an hour, especially when you're only working part-time.
"It's devastating. When I have to take care of my daughter, I have to catch the bus most of the time, and I don't even have enough money for that."
Jackson says she started out working at McDonald's four days a week. Then her hours were cut.
"Then I started working three days. Then it was two. Then it went down to one day a week, then back to two. Now it's straight-up two days a week. And it's not enough for me to work, especially since I have a kid to take care of."
Jackson was one of about 20 fast-food workers staging a demonstration in front of a McDonald's on Westheimer near the Beltway. The protest follows class-action lawsuits filed in California, New York, and Michigan, alleging that the fast-food giant steals workers' pay by forcing them to work off the clock.
The lawsuit claims employees have to work during break periods, and that they don't get paid for mandatory training sessions.
Laura Perez-Boston with Houston's Fe y Justicia Workers Center says it's hard to say just how many workers aren't getting paid their fair wage.
"Workers are afraid to speak up, or they simply don't know it's happening because they're being asked to work off the clock, and they don't want to lose their job."
And Perez-Boston says when workers don't get their entire paycheck it hurts the economy.
"Because it's money that's not going into the pocket of working families and then not being reinvested in our communities."
And what about those class-action lawsuits? Employment law professor Ronald Turner with the University of Houston Law Center says depending on the quality of the evidence, those lawsuits could end in a settlement.
"If you're talking about a class-action liability is so much more significant so the employer has to make a judgment about whether if we lose this case, it could have a significant monetary liability for us."
In a prepared statement, McDonald's says it's committed to the fair treatment of all its workers. The company says it's investigating the allegations in the lawsuits and will take any necessary action.