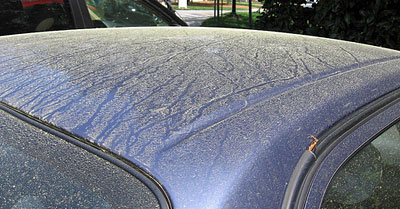 If you've lived in the Houston area for more than a year, you're familiar with this Spring ritual. Park your car outside for a few hours and it will be covered with a fine film of yellow.
Dr. Adrian Casillas is an allergy and immunology specialist with the Baylor College of Medicine. He says that yellow dust is pine tree pollen and it's not what's making you sick.
"It's a very heavy pollen, it's a large pollen and that's why you can see it. But it's not the main cause of allergies, because of the fact that it's heavy it doesn't stay in the air for a long time. But there are a lot of other trees that are pollinating this time of year. And that would include oak, ash, juniper and cedar."
It's likely that the much smaller pollen from one of those trees is the culprit. Casillas says tree pollen is in high abundance right now and there's not much you can do to avoid it.
"It doesn't matter if there's a pine tree next door or not, or for example an oak tree or whatever. Because those pollens, especially the smaller ones, can travel very far distances. So people often say well I cut down the trees I'm allergic to in my yard. That makes very little difference."
And if you're starting to suspect that allergies are worse in Houston than in other parts of the country, you're not imagining things. Casillas says the warm climate and abundance of vegetation here combine to create a much longer pollination period than areas with more distinct seasons.