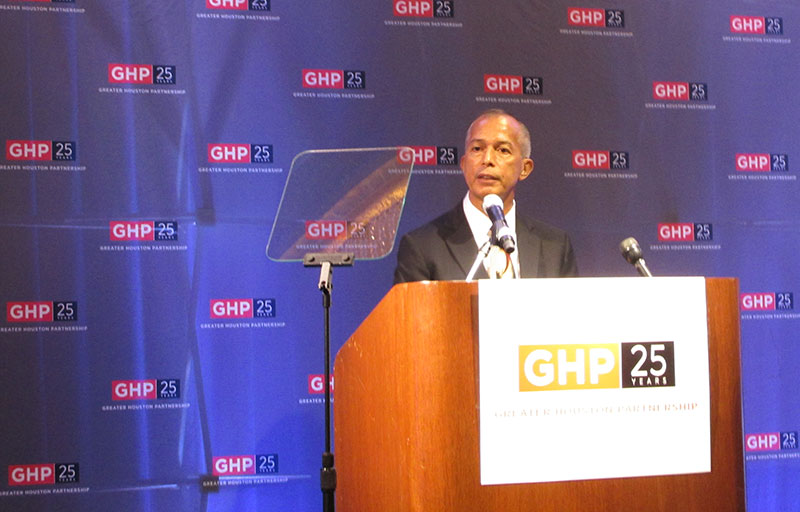 Houston Airport System Director Mario Diaz gives his State of the Airport address before the Greater Houston Partnership
Bush Intercontinental Airport is seeing a big increase in the number of international passengers, and aviation officials are now preparing for the next wave of travel that takes people even further.
In his annual address before the Greater Houston Partnership, Houston Airport System Director Mario Diaz says international travel has grown by about 60% over the last decade. Bush Intercontinental is now handling about 9 million passengers a year flying in and out of the country.
But before the end of the decade, the airport system hopes to handle passengers who are traveling into space. Officials will soon file an application with the FAA to make Ellington Field a spaceport.
Diaz says if they win approval, the spaceport should be in operation by 2017.
"It will be taking passengers into space, it will be launching micro satellites, small satellites, it will be for zero gravity experimentation. It will be for geo mapping."
The launches proposed for Ellington involve reusable vehicles that take off similar to commercial aircraft. Diaz says they'll fund the effort through public-private partnerships.
"We are continuing to talk to companies in the aviation aerospace industry. There are already a number of small companies that already want to come on airport, but we need a collection, a cluster, a critical mass of companies."
Diaz says what makes the Ellington site attractive is its proximity to the Johnson Space Center and the Gulf of Mexico.